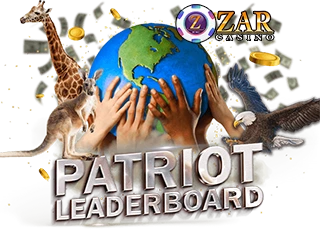 ZAR Casino – a proudly South African online casino – has kicked off an exciting new leaderboard promotion, where players can grab their share of the R1 million prize pool by the end of the competition.

The R1 Million Patriot Leaderboard Competition is your chance to play at one of South Africa's most popular gaming sites, enjoy the action and walk away a winner, simply for making a small deposit!

How do you win in this month-long promo at ZAR Casino?
---
What's the Patriot Leaderboard Competition All About?
The promotion takes place throughout the month of July over four separate rounds. The first round has just completed and there are three more ahead of us. The competition's remaining timetable is as follows:
July 8th – 14th
July 15th – 21st
July 22nd – 28th
The total prize money per round that's being awarded to lucky winners is R250,000. Every deposit that you make into your real money account during the R1 Million Patriot Leaderboard Competition earns you a higher rank on the leaderboard.
It also adds to the Golden Tickets that you can earn to win a Mustang or a Luxury Train Trip. Want to learn more about these other prizes? Read on!
Win a New Car at ZAR Casino
Another promotion that's running at ZAR Casino is one that has a luxury new car up for grabs.
Anyone can win with their daily deposit made into their online casino account.
For every deposit of R70, players earn a Golden Ticket into the 2 x weekly Cash Draws on Tuesdays and Saturdays, and this also puts them in line to win a luxury car.
ZAR Casino gives away four cars each year, and the next one is due to make its way to one very lucky new owner on July 23rd. Don't say we didn't tell you!
Win a Luxury Train Trip
ZAR Casino is embracing the Art of Travel by giving away a Luxury Train Trip to five lucky players and their partners.
Winners will be able to pick one of 10 top luxurious trains around the world. The competition also ends on July 23rd.
Every R70 deposit made in their accounts, will earn players automatic access into this competition, as well as the 2 x weekly cash draws that put them in line to win the luxury car.
Remember, this Luxury Train Trip promo runs alongside the other competitions, but the draw for the winners is separate altogether.