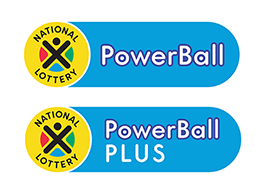 The South African lottery was first introduced in 2000 and became a roaring success from its first day of operation. In fact, within its first three weeks, the then-operator, Uthingo, sold nearly R70 million worth of tickets. Over the years, many new games were added to the original lottery, and in 2009, Powerball was introduced, followed by Powerball Plus in 2015.
These lottery draws take place twice a week and have the potential to pay out literally millions of Rands. The biggest recorded prize for any lottery game in South Africa's lotto history was on a Powerball draw, when an eye-popping R102,016,595 was won on a ticket bought in the Free State. Incredibly, nobody ever came forward to collect this prize. The largest claimed prize from Powerball was a no-less-hefty R91,068,427.
When the current national lottery operator, Ithuba, first rolled out Powerball, players were required to pick five main numbers (from one through to 45), as well as a Powerball number (from one through to 20). Players could win by matching the main numbers. Higher prizes were paid out by matching the Powerball number. The jackpot is won when a player matches all five main numbers and the Powerball number.
In 2015, the National Lottery decided to introduce changes to the way Powerball is played. For one, the number of main balls was raised from 45 to 50. Other adaptions included the ability to win a prize by only matching the Powerball.
In November 2015, the National Lottery rolled out Powerball Plus – played in the same way as the original Powerball lottery, but offering players a second chance to win. Players pay more for this extra chance that comes with the same odds but slightly smaller prizes.
The frenzy before Powerball draws can be felt across South Africa, especially since it has a minimum jackpot of R3 million. If nobody wins the big prize, the jackpot rolls over, with each rollover generating a whopping R13 million. Do the math – a Powerball jackpot that has rolled over 20 times could very easily reach over R100 million!
???? Powerball and Powerball Plus in a Nutshell
The Powerball and Powerball Plus draws take place twice a week – on Tuesdays and Fridays on ETV at 9 pm.
A single Powerball play costs R5 (including VAT).
A single Powerball Plus costs R2.50 (including VAT).
There is no limit to the number of boards you can play on both lotteries.
Ticket sales close at 8.30 pm on the day of the draw.
❓ How to Play Powerball

The first thing to do is obviously get hold of a valid Powerball betslip. You then use a pen or pencil to choose five numbers (from one through to 50) and an extra number (one through to 20). Head to a National Lottery approved retailer and take your betslip to the cashier. Pay for the betslip. The teller will hand you a receipt where your chosen numbers will appear. Our tip is to write your name at the back of the receipt to make sure that there is no question of the owner of the receipt if you happen to win. All that is left is to sit back and watch the twice-weekly Powerball draw on Etv on Tuesday and Friday nights. You'll see that two machines are used for the draw – the first draws the numbers from 1 – 50, and the second draws the single Powerball ball from 1 – 20.
As we said, there is no limit to the number of Powerball boards you can buy. However, there is also the option of using the Multi-Draw feature. This nifty feature essentially allows you to play the same numbers over multiple Powerball draws.
Remember that you can only play Powerball and Powerball Plus if you are 18 years old or older. If you are lucky enough to win a prize, you have a full year (365 days) to claim it.
Buy your tickets any day of the week; however, remember that sales close half an hour before any of two draws per week.
❓ How to Play Powerball Plus

Powerball Plus is played very much like Powerball is, with a few changes. At R2.50 per chance, it is a more affordable option for players. It is important to note, however, that you cannot play Powerball Plus without playing Powerball. On the Powerball betslip, simply tick Powerball Plus as an additional lottery to enter. You then pick five numbers between 1 and 50 and a lucky random number between 1 and 20, just as you would in regular Powerball. The National Lottery offers a Quick Pick option and this feature chooses six random numbers for you, instead of you having to make the choice.
As with Powerball tickets, you use a valid betslip that you'll be able to purchase at any National Lottery retailer. Keep your receipt and mark it with your personal details on the back. Here, too, there is no limit to the number of betslips you can fill in per draw.
Playing Powerball and Powerball Plus Online
Another way of playing Powerball or Powerball Plus is online. This is a particularly convenient way of getting into South African Lottery action from the comfort of your own home. You can play from your desktop or mobile device, as follows:
Open an online lottery account.
Deposit funds into your account.
See a board – choose five numbers between 1 and 50, followed by a Powerball number from 1 – 20.
Repeat this process for as many lottery boards as you'd to play.
Confirm the number of draws you would like to enter.
Pay for your entry online.
???? How to Claim Your Powerball and/or Powerball Plus Prize
Powerball and Powerball Plus Terms & Conditions
One Powerball or Powerball Plus Entry constitutes five numbers (from a grid of 50) and another single number from a grid of 20.
One Powerball game costs R5, while one Powerball Plus game costs R2.50.
Unless otherwise stated, the Powerball and Powerball Plus draws take place on Tuesday and Friday nights.
Powerball and Powerball Plus tickets are sold every day of the week during the normal business hours of the retailers.
The maximum price for a wager is limited to R2,000 (two thousand rand) per ticket.
Should the lottery terminal reject the betslip, there is no valid entry.
These are as many bonuses that we could include in our list of Online Casino Bonuses. With so much information available on the internet, you can select your online casino site and read a lot more about their bonus options available to you. Bonuses recipients are randomly selected for the most part so don't feel left out if you have not received one. It is probably on its way to you as we speak. Don't forget to read through all the terms and conditions carefully and play responsibly!
Powerball and Powerball Plus Lottery Results
After each draw, the National Lottery will publish the results and announce the winning numbers almost immediately. You can check back at online gaming sites such as SouthAfricanCasinos.co.za.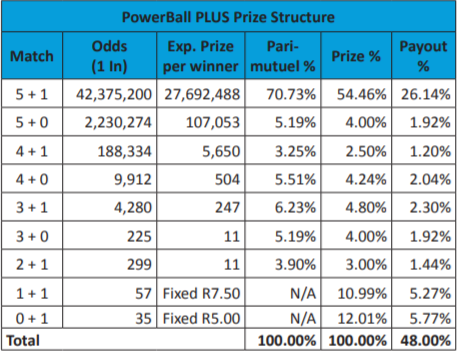 The following table shows the Powerball Plus prize structure and your odds of winning – also 1 in 18.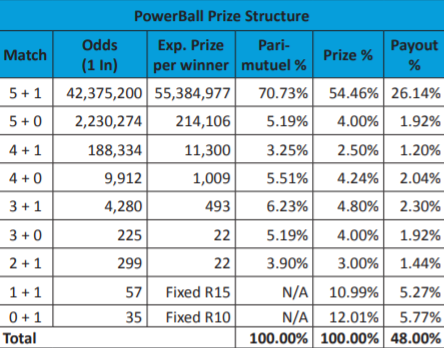 ???? How to Claim Your Powerball and/or Powerball Plus Prize
If you discover that you've chosen winning numbers in the Powerball or Powerball Plus draws, now comes the best part – claiming your prize!
Depending on the size of your prize, there are several ways to go about getting your hands on it.
Prizes up to R2,000

– Smaller prizes can be claimed at any licensed lottery retailer across South Africa as they are authorized to hand you over the payout. You will need to bring the winning and signed Powerball ticket with you.



Prizes from R2,001 to R49,999

– To claim a larger prize up to R50,000, you will need to visit any authorized lotto payment center. There are many of these centers in South Africa, and many locations, such as post offices, serve as larger payment centers. You will get your money via cheque or EFT, and depending on the method you choose to receive your winnings, you will see your money into your account within 3 days (at least) or up to a maximum of 10 business days.



Prizes of R50,000 or more

– When we're talking about higher wins, you will want to make sure that all the precautions are taken to keep your windfall safe. Your first step is to visit a post office and ask for an official Prize Claim Form. Fill it out and visit one of Ithuba's regional offices. You will find their address on the official National Lottery site. The lottery operator will validate your win and you will receive the prize in person. In this case, Ithuba insists that the prize be paid by EFT and your will see the money in your account within 72 hours.



Claiming jackpot prizes by mail:

If your prize does not exceed R50,000, you have the option of claiming it by post. To do so, you should send the signed and dated lottery ticket in the mail, together with the Prize Claim Form and proof of identity. The letter should be sent to: The National Lottery head office, 14A Charles Crescent, Eastgate Ext. 4, 2031, Sandton. You should remember that this method carries a certain risk because if the lottery ticket gets lost in the mail, there is no proof that you won anything.



Claiming Online Lottery Ticket Wins:

Buying your online lottery ticket online makes a lot of sense. Besides the convenience factor, the process to claim your wins from an online purchase is extremely safe. Should your win be anything up to R49,999.99, the money will be transferred immediately into your online lottery account. This removes the need to fill in a form, make a claim or provide extra ID. If your prize is greater than R50,000, you will do need to follow the same process as someone who didn't buy their ticket online. This means filling out the Prize Claim Form and heading to one of Ithuba's regional offices to make the claim in person. We remind you not to forget your ticket, proof of ID and bank statements.



Claiming Lottery Wins on Tickets Bought By Phone (USSD):

A less common method of buying your Powerball ticket is by phone. A winning ticket bought this way, with a prize valued up to R50,000, will see the prize credited to your mobile account. If the prize is over this amount, look out for an SMS announcing the win and confirming it. The claim process is then the same as for anyone with a bigger prize (in person at an Ithuba regional office).
FREQUENTLY ASKED QUESTIONS
❓ Can I buy a Powerball ticket a few minutes before the draw takes place?
No. On Powerball and Powerball Plus draw nights (ie. Tuesdays and Fridays), the lottery closes ticket sales a half hour before the draw. That means that you can't buy tickets later than 8.30 pm on those two nights.
???? Do I have to play Powerball Plus with Powerball?
Yes. You cannot play Powerball Plus without buying a Powerball ticket as it is considered a supplementary option to the game. Powerball Plus simply gives you an extra opportunity to win more prizes at a reduced cost (R2.50 instead of R5.00).
???? How much tax do you have to pay on South African Powerball wins?
None! You are not taxed on lottery wins in South Africa, and that goes for Powerball and Powerball Plus as well.