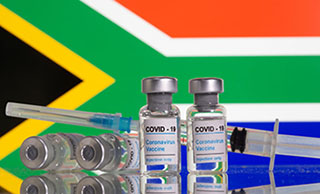 The hospitality, gambling and tourism industries in South African are pinning their hopes on the COVID-19 vaccination, as their properties get hammered by a fourth lockdown. Shares in many of these companies dropped sharply on the Johannesburg Stock Exchange as the government announced stricter lockdown restrictions.

Tsogo Sun Gaming saw its shares drop over 11%. The group's Hotels arm lost 8% on the JSE. It's important to note, however, that both Tsogo Sun Gaming and Tsogo Sun Hotels were up 60% and 85% higher so far in 2021, consecutively.
---
According to Rowan Williams, a fund manager quoted in in Business Day, "Clearly sentiment is playing a big role here as a two-week lockdown is not likely to completely derail leisure businesses."
"The market has been buoyant until this point and probably over optimistic on the short-term recovery prospects for the SA economy, particularly given the increasing intensity of the third wave, and so the market is selling off as market participants moderate their expectations of a short-to medium recovery of the economy."
Tsogo Sun wasn't the only South African casino group to experience big drops. The group saw shares fall 8% which was its biggest drop on one single day since last year in August.
Sun International made the corporate decision to close all its restaurants and casinos on a temporary basis under the latest coronavirus regulations. Unlike Tsogo Sun, Sun International also decided to shutter its resorts and hotels temporarily. These include the group's flagship Sun City and Wild Coast resorts.
As per Sun International's COO Graham Wood in a statement on behalf of the group: "The new regulations require our casinos and restaurants to close, but given the new restrictions on leisure travel into and out of Gauteng, alcohol and the curfew, our hotels and resorts will struggle to operate, so we have taken a decision to temporarily close them too."
SA Lags Behind in COVID-19 Vaccination
While in some countries around the world, such as Israel, economies have opened up and restrictions lifted thanks to successful vaccination drives, South Africa is sadly lagging behind in that sphere.
The process has gotten off to a very slow start and only 8% of the population has been vaccinated so far. This has caused worry among economists who had pinned their hopes on more vaccinations as a way to revive the economy.
There are fears that South Africa will struggle to move past its third wave, which is currently more deadly than the first and second waves combined. The India-originated Delta variant,which is now the dominant strain in South Africa, is proving to be much more contagious than previous variants.
An average of 15,500 new COVID-19 cases are identified each day in South Africa, bringing the total number of lab-confirmed cases to 2,269,179 cases. 66,385 people have died from the virus in South Africa so far. Deadly unrest has gripped parts of the country since former President Jacob Zuma was imprisoned last week, hampering the vaccination drives.
Health workers have been unable to get to work because of dangerous commutes. Vaccination sites and diagnostic labs have been disturbed and it is expected that the number of deaths will increase because of the massive looting which could be described as super-spreader events.