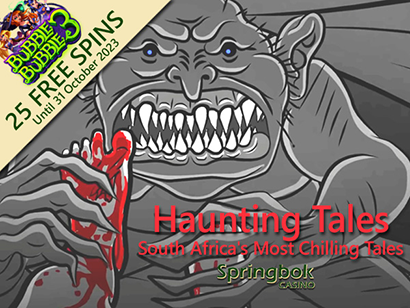 October 2, 2023, Johannesburg, South Africa (Press Release) – Halloween is coming up and people around the world are developing an appetite for scary stories. This month, Springbok Casino delves deep into the heart of South Africa's most chilling tales in its Haunting Tales collection of spooky videos and stories.

One of South Africa's most intriguing legends, Tokoloshe is a mischievous, dwarf-like spirit notorious for haunting unsuspecting sleepers, causing nocturnal disturbances.

In Cape Town, the Phantom Hitchhiker of Uniondale isn't just an old wives' tale; she's a cold reality for many drivers. This ethereal traveller is said to be searching endlessly for a way back home.
---
There's a tale in South Africa, passed down generations, about the White Lady. She is often seen draped in a flowing gown as she roams various historical sites, mourning a lost love.
Deep within the caves of Richtersveld lives Grootslang. This mythical beast is said to be an ancient serpent-elephant hybrid with skin as tough as diamonds and a temper to match.
In the 17th century, a Dutch ship met its fate while attempting to cross the perilous Cape of Good Hope. The Flying Dutchman sank, but as the story goes, the captain and his ship were cursed to sail the seas for eternity.
Loch Ness has its monster, and so does South Africa. Deep within a secluded lake there is said to be a gigantic creature that's a blend of a serpent and a prehistoric creature. Local fishermen tell tales of their narrow escapes from the beast.
This month the South African online casino is giving players 25 free spins on Bubble Bubble 3, one of its players' favourite Halloween slots.
OCTOBER FREE SPINS
25 Free Spins on Bubble Bubble 3 Slots
Coupon Code: HAUNTED
Available until OCTOBER 31, 2023
The third game in the sexy Bubble Bubble series of Halloween slots, Bubble Bubble 3 has Hextastic Symbols, Mega Magic free spins and Crystal Ball re-spins. Winni and Wanda witch are back, doubling payouts when they're part of a winning combination. Winni can use her powers to change low value symbols into higher-paying symbols. Scatters award up to 20 free spins.