June 1, 2020 Johannesburg (Press Release) -- A lot of people have extra time on their hands these days. Many of them are spending a lot of that time watching videos on YouTube – including Springbok Casino's manager, Daniel Van Wyke. This month on the South African casino's, he's published the Top 10 Most Viewed Videos on YouTube. Not surprisingly, most of the most popular are music videos.

The absolute top of the charts is the music video for Despacito by Puerto Rican singer Luis Fonsi, featuring Puerto Rican rapper Daddy Yankee. Starring 2006 Miss Universe Zuleyka Rivera, and shot in La Perla neighbourhood of Old San Juan, it's had nearly 7,000,000,000 billion views and has received 3 Grammies.
---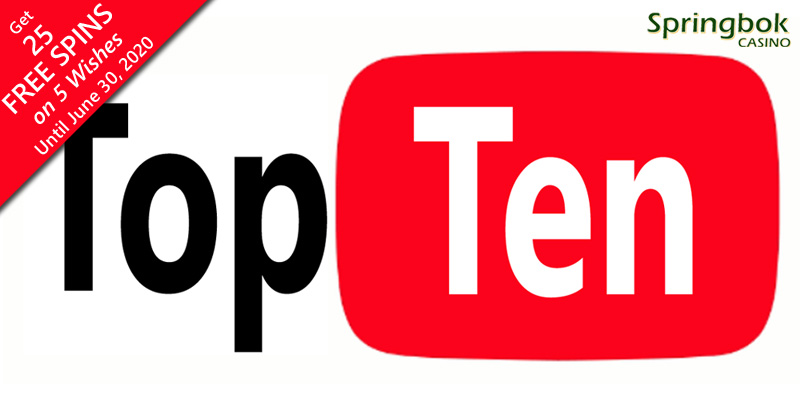 The Baby Shark Dance is the second most watched YouTube video with over 5 billion views. Originally produced for Korean children's television, the catchy song about a family of sharks has been performed by K-Pop bands like Red Velvet, Girls' Generation and Black Pink.

Ed Sheeran's Shape of You has had over 4.7 billion views on YouTube. Infused with pop, dancehall and tropical house elements, it isn't a typical Sheeran tune. It won a Grammy for Best Pop Solo Performance at the 60th Annual Grammy Awards.
The Top 10 Most Viewed Videos on YouTube also includes:
See You Again, a hip-hop, pop-rap ballad by Wiz Khalifa featuring Charlie Puth
The very first episode of Masha and the Bear, a Russian animated television series (4 billion views)
Straight-ahead funk disco groove Uptown Funk by Mark Ronson, featuring Bruno Mars (3.8 billion views)
Psy's K-pop hit Gangnam's Style, which became a global craze when it shot to the top of South Korea's music charts in 2015
Sorry, by Canadian singer superstar Justin Bieber, which has topped the charts in thirteen countries (over 3.2 billion views)
Maroon 5's Sugar with its retro '70s/'80s feel and funk-pop, and soul influences
Roar, which made Katy Perry the first female artist to reach 3 billion YouTube views
"Yes, I admit… I watch too much YouTube!" laughed van Wyke. "But don't worry – I've still had time to come up with a sweet free spins offer for June!"
JUNE FREE SPINS
25 Free Spins on 5 Wishes
Coupon Code: YOUTUBE
Available until June 30, 2020
Springbok Casino is South Africa's favourite place to play real money online casino games. It has hundreds of slots and table games, all played in Rands, and offers customer service in both Afrikaans and English.