November 1, 2021, Johannesburg, South Africa (Press Release) -- This month, Springbok Casino pays tribute to South Africa's GOATs -- not the farm animals but G.O.A.T.s, South Africans who deserve the title of 'Greatest Of All Time'.

"From sports, the arts, movies, music and politics," said Springbok's manager, Daniel van Wyke, "As South Africans, we have a lot of great people to celebrate!" Gary Player is South Africa's G.O.A.T. Golfer. He is the only non-American, and only one of five golfers ever to win the Masters Tournament, PGA Championship, US Open AND British Open.
---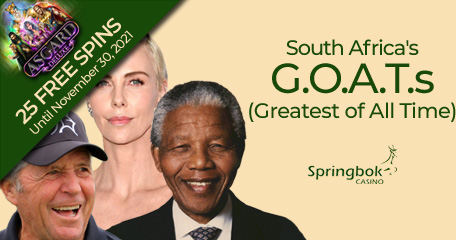 Jacque Kallis, who scored 25,528 runs and took 577 wickets, is definitely South Africa's GOAT cricket player.

Jody Scheckter is the only South African to have been successful in F1, winning 10 Grand Prix races AND the World Championship in 1979, and is therefore the F1 Racing GOAT.

Nelson Mandela was the most respected, loved and famous political figure ever to walk this earth in modern times. The Nobel Peace Prize winner is the GOAT South African politician.

There are lots of South African GOATs in Hollywood but perhaps none have ever become as recognized and world famous as Charlize Theron from Benoni.

Master KG's very catchy 'Jerusalema' (feat. Nomcebo) became a world hit in 2020, effectively becoming the universal lockdown anthem and earning him the title of Musical GOAT.

GOAT athletes include marathon winner Bruce Fordyce, rugby fullback Percy Montgomery and long-distance swimmer Lewis Pugh.

This month Springbok players can take 25 free spins on Asgard Deluxe, one of South African slots players' favourite games. Springbok Casino has hundreds of slots and table games from Realtime Gaming, all played in Rands. Customer service is available in either English or Afrikaans.
NOVEMBER FREE SPINS
25 Free Spins on new Asgard Deluxe Slots
Coupon Code: GOATS
Available until November 30th, 2021