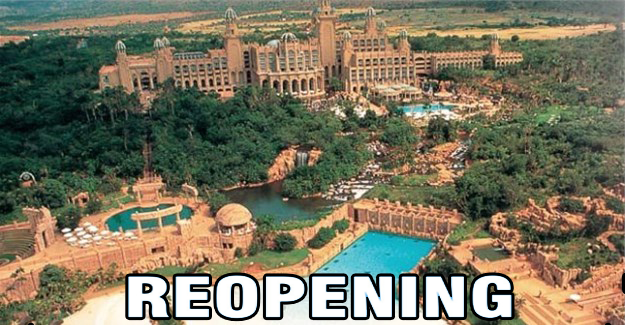 Sun International announced the reopening of its flagship resort, Sun City, after it was closed for five months during lockdown and beyond.

This comes as South Africa's casino and hospitality operator announced that it was planning to cut jobs at some of its properties in a bid to deal with the crippling financial results from the pandemic.
---
Sun City Management Celebrates Reopening
Sun City was the last of Sun International's properties to reopen since the resort depends mainly on out-of-province visitors. As long as the government continued its ban on interprovincial travel, there was no point in reopening. However, management used the weeks before the reopening, working tirelessly to introduce Covid-19 compliant health and security measures. The general manager of hospitality at Sun City, Julius Ramotse said: "It is the first time in the 40-year history of Sun City that we saw it closed down completely… and none of us was expecting it to be so long."
However, Ramotse said that it was important to "take the positive of the lockdown." As such, the resort undertook some major projects which may have been impossible if the property had been full of guests. One of them involved replacing all the elevators in the Cascades and some general refurbishment of the 14-floor hotel. That's not to say that it's business as usual at Sun City. Due to Covid-19 restrictions, some of the entertainment facilities need to remain shut, such as the Valley of Waves and the Cabanas. However, there is certainly enough to keep gamblers and their families happy, including a giant new outdoor trampoline. The swimming pools, the Lost City golf course and, of course, the Sun City Casino are all open for business.
Management will make sure that numbers are limited where they need to be, and the casino has introduced strict protocols such as partitions at gaming tables. Changes have also been introduced to housekeeping. Sanitized rooms will be sealed until the next guests arrive, and visitors can decide whether or not they want their bed serviced during their stay.
Sun International Reports 56.2% Y-on-Y Decline
The news about the reopening of Sun City comes amidst Sun International reporting a 56.2% year-on-year decline in revenue for the first half of 2020. Like many South African industries, the casino market took a heavy hit, with many properties forced to close midway through the year's first quarter.
As part of its recovery plan, Sun International will be forced to significantly restructure its operations, including a redundancy process. The group announced that it is planning to let up to 2,300 employees go in a bid to save R280 million. The impact will be felt at Table Bay, the Wild Coat, Maslow Sandton, the Boardwalk, and the newly reopened Sun City. Chief executive, Anthony Leeming said: "The Covid-19 pandemic has hit the gaming and hospitality sector particularly hard and forced us to make some tough choices to protect the business and to as far as possible limit the impact on employment." "While we anticipate the recovery will take time, we have placed the group on a firm footing for the future, realizing operational and cost efficiencies and improving the guest experience that will position the group for growth when the outlook improves."