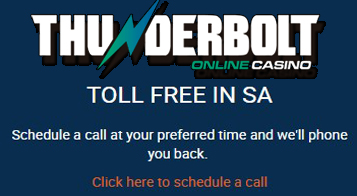 One of the most important features of any online casino is its customer support. Players need to know that at any given moment, they can get hold of the site's support team to get assistance with any problem or query.

South African online casinos such as Springbok Casino and Thunderbolt Casino have always made it a priority to offer excellent support to their players. Springbok, for example, offers assistance in English and Afrikaans. This week, Thunderbolt Casino announced that it has introduced a brand-new feature that will only enhance its support package. Read more about Thunderbolt Casino's new callback feature.
---
What's the new feature all about?
In a May 24th blog, Thunderbolt Casino announced that its telephone support lines are back, and even better than before. This time around, phone support includes a callback feature.

According to Thunderbolt, the "callback scheduler" is all about "don't call us, we'll call you." Essentially, the feature allows South African online casino players to spend more time gaming and less time waiting on hold to reach an available support operator. All they need to do is schedule a call with Thunderbolt Casino, at the time that best suits them, and a member of the friendly, professional help team will call right back.
What Thunderbolt Casino says
As per the blog announcement:
"No more fuss of the boring old 'hold' tone, no more getting impatient or wasting precious time that could be spent adding to those winnings! Oh, and best of all, did we mention that you can choose whatever time of day best suits YOU! You see, we at Thunderbolt really like to put valuable customers such as yourself, first. So, take advantage of our fun new feature today and start enjoying the electrified wins at Thunderbolt, the best casino for ALL South African's where everyone's a winner and everyone's welcome."
How to schedule a call with Thunderbolt Casino
If you want to take advantage of the new callback feature at Thunderbolt Casino, you should do the following:
Visit the support section of the website.
Provide the necessary details (username, phone number, etc.).
Include a brief description of your query.
Select a day and time that best suits you.
Thunderbolt support will get back to you on the day and time you specified.
24/7 Customer Support
Thunderbolt Casino has a dedicated and highly qualified team that is always on hand to improve the player's gaming experience.
The online casino supports players 24/7 and 365 days of the year, in their own language, making things as easy as possible.
"Get first-class service from Thunderbolt Casino's top customer support agents who are more than willing to cater to your needs," according to the site.
Different ways to get help at Thunderbolt Casino
FAQ: If you're looking for a quick answer, without the need to contact customer support, check out the Frequently Asked Questions section. Find popular questions and answers to issues such as Bonuses, Deposit and Withdrawal, Safety, Games/Software, Registration and others.
Toll Free Phone Support in South Africa: Schedule a call at your preferred time and Thunderbolt Casino will call you right back.
Email support: Send a message to suppor[email protected] and you'll get a reply right back.
Live chat: Click the Live Chat button on the site to speak directly with a customer support agent.