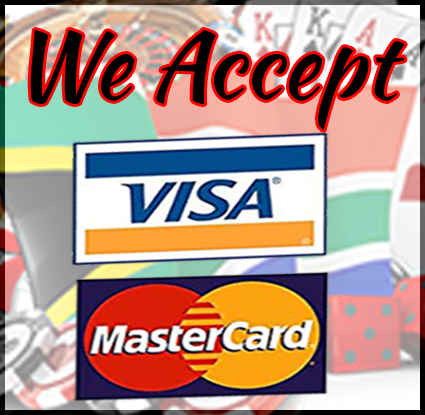 In the day of electronic payments and transactions, one of the most popular payment methods across the world is the credit card. The first credit card that came on the scene was from Diners Club and it made its first appearance back in 1950. From those early days the credit card industry has grown beyond imagination to become a multi-billion dollar behemoth. Credit card payments are among the most popular at online casinos across the world, including at those accepting South African players.
The most commonly used credit cards at online casinos for South African players are Visa and MasterCard. Other credit cards you can use at these casinos include American Express and Diners Club. However, one thing to keep in mind: Diners Club and American Express are not among the popular credit cards accepted, so do check with the casino before opting to use either of them.
While you will find some casinos accepting Diners Club credit cards, most of them don't accept American Express. This is directly tied in to the legislation in the USA relating to financial institutions processing payments from online casinos, the UIGEA.
TOP ONLINE CASINOS ACCEPTING CREDIT CARDS
Online Casino
Welcome Bonus Package
Play Now
Deposit
Software

Springbok

R500 Free
Coupon :

NDC500

+
R11,500 Free
Play Now

✓

RTG




300+ Games

Yebo Casino

R350 Free
Coupon :

SAC350

+
R12,000 Free
Play Now

✓

RTG




350+ Games

Europa Casino

R375 Free


On Registration

+
R24,000 Free
Play Now

✓

Playtech




320+ Games

Thunderbolt

R350 Free
Coupon :

NDC350

+
R12,000 Free
Play Now

✓

RTG




380+ Games

ZAR Casino

100 Free Spins
Coupon :

SAC350

+
R30,000 Free
Play Now

✓

GO PLATFORM




129+ Games

Punt Casino

R350 Free
Coupon :

SAC350

+
R10,000 Free
Play Now

✓

RTG




350+ Games

Yeti Casino

50 Free Spins


On Registration

+
R3,333 Free
Play Now

✓

Multiple




300+ Games

Spin247 Casino

100 Free Spins


On Registration

+
R3,000 Free
Play Now

✓

Slot Factory




350+ Games

Casino Tropez

R100 Free


On Registration

+
R5,000 Free
Play Now

✓

Playtech




290+ Games

African Grand

R350 Free
Coupon :

350NDC

+
R10,000 Free
Play Now

✓

GO PLATFORM




310+ Games

Tusk Casino

R100 Free
Coupon :

SAC100P

+
R15,000 Free
Play Now

✓

Multiple




1000+ Games
What is a Credit Card?
Let us start at the beginning, by understanding what a credit card is. A credit card is a transaction tool that allows you to make payments and even withdrawals (though a number of online casinos do not allow withdrawals with credit cards). The way it functions is simple: the organization offering you a credit card effectively gives you a line of credit to use. The amount of credit available depends on a number of factors including your:
Overall credit rating and score
Designation and monthly income
Credit history
You can use the money available on your credit card to make purchases or pay out instalments on purchases made or other financial commitments you may have. However, the key is that the money you get is a line of credit, a loan of sorts, and you are required to pay back any of the money you spend through your credit card.
Credit cards are possibly the most popular payment methods at online casinos, especially Visa and MasterCard credit cards. A large number of South African players use these cards to deposit funds for real money play at online casinos. There are a number of reasons why the Visa and MasterCard credit cards are so popular among players:
They are both the biggest international brands in the credit card industry. They are accepted worldwide at physical and also online locations.
They are established brands, and this is an automatic guarantee of secure transactions. The brand value is just one part of the equation; they back it up with the highest grade of online security technology, including SSL encryption.
They are a great source for instant funds even if your bank account is dry. All you have to do is ensure you repay the money you used through the card on time.
They guarantee instant deposits into your casino account.
The big reputation that they enjoy also results in some of the casinos allowing players to use them, specifically the Visa credit card, for withdrawing winnings.
Some Things to be Aware of about Using Credit Cards at Online Casinos
While credit cards are a great source of ready cash, there are some things you must be careful about while using them. We list some of these issues below:
They give you instant funds, and while that is a great thing you may be tempted to overspend and max out the credit card.
Overspending has the potential for another equally negative impact: gambling addiction. You may tend to spend more and more from your card just to recoup the losses you incurred while playing.
You need to remember that you have to repay the amount you have used up from your card.
Failure to repay can result in serious consequences, including a bad credit history. Bad credit history has a massive negative impact on any potential credit usage in the future, be it a loan or any other financial borrowing.
Top Online Casinos Where You Can Pay with a Credit Card
There are a large number of online casinos accepting South African players that allow you to make payments using a credit card. The casinos on our list have all been tested for credit card payments and passed with flying colours. We list the top 10 such casinos for you below.
Using Your Visa or MasterCard for Payment at Online Casinos: Registering is the First Step
The first step to using your Visa or MasterCard (or even Diners Club credit card) to fund your casino account is to open an account with the credit card provider. You can do this as shown below:
1. Get the form from Visa or MasterCard.
2. Provide all the details about you that are the form asks for. Ensure complete accuracy.
3. Submit the form or hand it over to the credit card company executive for processing.
4. The credit card company does a background check on you to verify the authenticity of the information provided. Elements that the company checks for include credit repayment patterns and credit history.
5. Once the verification process is complete and the results favorable, you are issued a credit card.
6. Your credit card comes with a credit limit. This limit is determined by multiple factors, including:

a. Monthly income
b. Assets owned
c. Credit history

7. Signing up for a credit card is usually free. However, credit card companies do charge an annual maintenance fee that may be waived the first year based on the sign up package on offer.
8. While signing up is free, there will be charges for making transactions. This depends on the nature of transaction and also their value.
How to Deposit Funds into Your Online Casino Account with a Credit Card
Once you have your credit card you can use it to fund your online casino play. However, to be able to use it for this purpose you need to ensure that you have not crossed the card's spending limit. Failure to do so can result in penalties that include cancellation of the card and your entry into the card company's bad books.
So once you have a credit card how do you use it to deposit funds into your casino account? We explain this in the following easy to read and understand steps:
1. Ensure you have a valid credit card that is accepted at the casino you are about to play at.
2. Open an account with the casino by providing your required details.
3. Log in to your account using the unique username and password you have generated.
4. Enter all the required details on the resulting screen; these include your 16-digit credit card number, CVV number, credit card billing address (this must match the data provided on your registration form), and card expiry date. The name and other personal details you enter must match the entries in your joining form. All spellings in both the form and the card should be identical.
5. Click the Deposit to Account button shown on the screen to complete the transaction.
6. Once you click the Deposit button the funds get transferred from your credit card to your casino account in an instant, and you are notified of the same.
While most online casinos accepting South African players allow for depositing funds using a credit card like Visa or MasterCard, there are a few that allow you to use your Visa credit card for withdrawing winnings from your casino account. The process is more or less the same as for depositing funds, except that you will probably need to fill in a verification form and also provide some form of personal documentation to facilitate the transaction quickly.
Once you have raised a withdrawal request using your credit card, the casino takes a while to process the information and complete the required checks and balances. When the process is completed the money is transferred out to your bank account. The amount of time taken for the money to reach you varies from one casino to another. Once the process is complete the casino takes about 24 hours to ge your winnings across to you in your bank account.
FREQUENTLY ASKED QUESTIONS
ACredit card usage is rampant at online casinos. As a result of this more and more people have questions about using these cards to fund their online casino play. We list some of the most commonly asked questions we have encountered over the years.
How safe is a credit card for depositing money in your bank?
ACredit cards are completely safe. They are cushioned not only by the security technology that the online casino operator has in place but also by the security technology that the credit card institutions use.
What are the fees I may need to pay to deposit and withdraw funds Using Card ?
AThere are no fees for depositing funds into your credit card account. However the casino may levy a fee for withdrawing funds using your Visa or MasterCard credit card.
How much time does it take for my credit card deposits and withdrawals ?
AAt almost every online casino accepting South African players, credit card deposits are processed instantly. Withdrawals are a different matter altogether. First you need to check if the casino allows withdrawals using a credit card. If it does, the process will be detailed, and involve a pending period for you to reverse a withdrawal should you change your mind.
Once the pending period is over the casino processes the withdrawal and then transfers the amount to your credit card account. The maximum time for withdrawal at the casinos on our list is 72 hours.
How do I deposit funds into my account using a Visa or MasterCard credit card?
AWe have listed the steps for depositing using a credit card in detail in the section titled How to Deposit Funds into Your Online Casino Account with a Credit Card above. Please go through that section carefully to learn how to deposit funds using a credit card, be it a Visa card or a MasterCard.
Can I use a credit card to withdraw funds from my casino account?
AThere are a few casinos accepting South African players that allow you to withdraw your winnings using a credit card. Visit the Banking section of the casino and click the Withdrawal tab. Enter the card number and other required details, and then click the relevant button to complete the transaction.