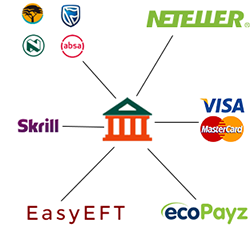 You have to make a real money deposit into your South African online casino account to wager real money on online casino games. This is why you have to study the different banking options available at various online casinos before registering an account.
Many South African players ignore banking while opening an online casino account because they find the topic confusing. If you don't research an online casino's banking options thoroughly before signing up, you may end up at an online casino that does not offer payment methods you are familiar with.
Here are some banking-related tips for South African players:
Research an online casino's banking options thoroughly before signing up.
Find out everything about the various security measures an online casino implements for safe and secure deposits and withdrawals.
If an online casino does not list its banking options on its banking page, contact a customer support representative and clarify your doubts.
Discuss the online casino in public online casino forums to find out if it processes payouts fast.
Find out if the online casino charges for deposits and withdrawals.
Make sure that the online casino supports ZAR.
Read the online casino's terms & conditions and withdrawal policy thoroughly.
We have listed the most popular online casino banking methods in South Africa. Click on a method that captures your interest to read our review of it. You can learn not only about South African casino payment methods on this page, but also about the best online casinos that offer these banking options.
Banking at South African Online Casinos is Safe
You can rest assured that banking is safe and secure at South African online casinos. We research , review, and recommend only those online casinos that maintain the best industry standards of safety and security.
Top-rated South African online casinos display a padlock symbol near their website addresses in the browser. This symbol indicates that the website is encrypted. Online casinos use the latest digital encryption Secure Socket Layer (SSL) technologies to encrypt your banking and personal details as soon as they receives them. Data thus encrypted is safe from unauthorized access. The online casino then stores your data in firewall-secured servers.
The best South African online casinos implement strong privacy policies to further protect your data. In their privacy policies, they clearly state that never share, reveal, or sell your information, including information about your winnings, to any third party individuals or companies unless required by the law to do so.
To further make sure that your winnings or details of your financial transactions at the online casino never reach the wrong people, the online casino requires you to validate your account details. As part of this verification procedure, also known as Know Your Customer (KYC) procedure, you have to submit to the online casino copies of your identification documents.
You can either take photographs of your documents or scan them before sending them to the online casino as email attachments. Some South African online casinos allow you to directly upload your documents on your gaming account page. You can rest assured that South African online casinos store your documents securely, permitting only selected members of its security staff to access them.
South African online casinos also partner with highly reliable, reputed, and licensed payment processors to make sure that you don't have any bad experiences while making a deposit or withdrawing winnings.
Popular South African Online Casino Payment Methods
South African online casinos give their customers a wide range of payment methods to choose from. If you need information about any method, you only have to contact a customer support agent through live chat.
The following is a brief overview of the various payment methods you will find at a South African online casino:
Credit & Debit Cards
The most convenient way to make deposits into your South African online casino account is through credit or debit cards. You can use Visa or MasterCard credit or debit cards for the purpose. You just have to reveal your card details, enter the amount you would like to deposit, and confirm the details you just entered to make your deposit.
Some online casinos also allow you to also withdraw your winnings using Visa or MasterCard credit cards. However, MasterCard as a withdrawal option is rather rare at South African online casinos. If you use your MasterCard as a deposit method, you may have to withdraw your winnings through some other method.
Electronic Wallets
Funding online casino accounts through electronic wallets is simple, instant, and anonymous. You don't have to reveal any of your financial details to the online casino. Electronic wallets such as Skrill, Neteller, PayPal, and others are convenient as you can use them for deposits as well as withdrawals. The biggest advantage of electronic wallets is that they are free of charge.
???? EFT
Instant EFTs and SID EFTs are immensely popular in South Africa as they allow you to directly transfer funds from your online banking account to your online casino account. The fund transfer is instant and the method is safe, secure, popular, and reliable.
Bitcoin
The use of Bitcoin as a casino payment method is fast on the rise. Bitcoin is ideal for players who want to stay financially anonymous. If you choose Bitcoin as your preferred banking method, you don't have to reveal your banking or card details to the online casino. Moreover, Bitcoin transactions are fast and you don't have to wait long to see your money in your account.
Withdrawing Your Winnings at South African Casinos
Withdrawing your winnings at South African online casinos is just as easy as loading funds into your gaming account. Usually, you can use the same payment method for deposits as well as withdrawals.
In fact, online casinos prefer crediting winnings to the same method you use to fund your gaming account. In case it is not possible to use your preferred deposit method for withdrawals, you can choose an alternative method such as Bank Transfer or electronic wallet.
Online casinos put payout requests in pending status as soon as they receive them. Payout requests remain pending for 1 – 3 days depending on the casino's withdrawal policy. During this time, the online casino verifies your account details. The online casino may also request you to submit copies of identification documents such as the following to successfully verify your account.
Government-issued photo identification such as passports, driver's license, and others
Proof of ownership of payment method such as bank statement, credit/debit card copies, screenshots of Neteller or Skrill account pages, and others
Address proof such as latest utility bills and others
You have to make sure that you submit your identification documents to the online casino at the earliest possible. Your payouts will unnecessarily get delayed if the online casino is unable to verify your account.
Online casinos process payout requests at the end of the pending period. The exact time taken for your winnings to reach you depends on your preferred withdrawal method. For example, card withdrawals take 3 – 5 days, electronic wallets take 1 – 2 days, and paper checks may take up to 20 days.
You can rest assured that top-rated South African online casinos never make you wait too long for your winnings.
FREQUENTLY ASKED QUESTIONS
Which is the best South African banking method?
AThe best South African banking method for you depends entirely on your personal requirements. It is the method that you have already used successfully in the past and one that you can use for both deposits and withdrawals at the online casino. Also, it should be a free or affordable method that supports ZAR.
Can I use different methods for making deposits and withdrawals?
AUsing the same payment method for deposits and withdrawals is convenient. However, online casinos allow you to choose an alternative banking method if you used a deposit-only method.
Why should I submit documents?
AYou should submit documents to verify your account. The procedure is required to ensure that casino winnings reach the right person. Also, licensed online casinos are required by law to follow KYC procedures, as part of which they have to verify players' accounts.
Do South African online casinos charge for making deposits and withdrawals?
AThe best South African online casinos do not charge you for making deposits and withdrawals. Some may charge you nominal fees. Also, banking, financial institutions, and credit card companies may charge processing and transaction fees that have nothing to do with the online casino.
Is it safe to make payments online?
AYou don't have to steer clear of online casinos, depriving yourself of the ultimate online casino gaming experience, just because you are doubtful about making payments online. Paying for products and services online is safe and secure and many people do it regularly. It is the only way deposit funds in your gaming account as online casinos do not accept cash payments.