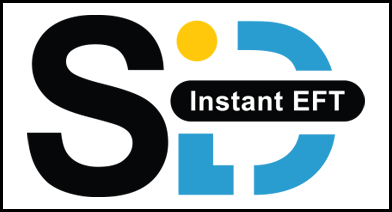 Although banking online had been previously viewed with tremendous suspicion, today it emerges as one of most trusted, quickest and easiest way of transferring one's funds. This in retrospect is due to phenomenal improvements that have been made by the various online money transfer companies. In truth, the online casino payment options that are currently available are so accessible to users from the comfort of your own home that you would have absolutely no reason to go to a bank and have to wait in a long queue just to transfer funds to your preferred online casino.
SID INSTANT EFT SOUTH AFRICA
SID INSTANT EFT
SID Instant EFT is a secure online banking system that has created a banking gateway beyond the use of a credit card. This revolutionary banking method allows for you to make payments directly from your bank account without waiting for your funds to clear and SID Instant EFT has bank-level security which protects each transaction you make.
SID Instant EFT is available for use online and because of SID Instant EFT's ease of access, it is one of many online banking systems that have played a large role in modernising South African casino's banking methods. Independently monitored and verified by leading security specialists, you're sure to have peace of mind when utilising this banking tool in South African casinos online!
How Does SID Work?
Since 2007, SID Instant EFT has been South Africa's most trusted online payment method. With a hassle-free attitude towards banking making it easier for shoppers and online casino players to transfer cash privately and securely.
Transfers using South Africa's favourite mobile and online payment app can be done in 5 easy steps:
1. Select the SID payment method in your chosen online casino.
South African online casinos have incorporated the SID Instant EFT payment option to accommodate for your credit free transactions.
2. Select your bank.
Popular South African banks such as FNB (First National Bank), Nedbank, Standard Bank and ABSA support online transactions made via SID Instant EFT to online casinos in South Africa.
3. Head to your pre-existing online banking account and log in.
This step is required to ensure that the SID Instant EFT transaction you're about to make has the correct details. Logging into your internet banking profile allows SID Instant EFT to link to your existing bank account directly without any meddlesome middlemen – so your details remain private.
4. Choose the bank account from which you want to make the transfer (that's if you have multiple).
If you are the type of person who has multiple bank accounts, you may want to select one to use for your transaction. Don't worry – you can change up accounts whenever you'd like to make a transaction! You're not limited to the first one that you have selected.
5. Reply to a push message that your bank has sent OR One Time Pin (OTP) that has been provided.
Security is key when it comes to electronic transfers made via SID Instant EFT. Correspondence is between you, SID Instant EFT and your bank. So go ahead and respond to that push message or enter the OTP.
SID INSTANT EFT SECURITY?
The internet is a beautiful place that can also be a little dangerous if you are not cautious with your details. Making use of the most advanced security features available on the internet, SID Instant EFT links directly to your internet banking service. /p>
SID Instant EFT doesn't store your internet banking details because YOU log into your personal bank and SID Instant EFT just automates the process of filling in your transaction details (such as the transactions amount, bank charges etc.) and only keep your account number for refund purposes. Otherwise, no third parties or middlemen can access or operate your internet banking systems using the information obtained by SID Instant EFT.
Haven't received an OTP via SMS?
Easy fix. Simply check to see if your SIM card is properly inserted, restart your mobile device and ensure that the SIM card's phone number is registered with your bank. Sometimes, OTP's can come in a later than anticipated or your SIM card's network service provider may be going through some connection issues.
If either of these are not the case on your side, do note that some banks send USSD push messages that require you to reply to them. This is a security measure that is preferred by some banks when authorising transactions. Check again in a few seconds and take the necessary steps from there.
Just how much time do these transactions take?
Transactions made with SID Instant EFT are instant! It's all in the name! No waiting period or arguing with banks about time. Transactions are cleared immediately so you can make your deposits into your favourite online casinos in South Africa there and then! Bet safely now.
It's really that easy? What's the catch
There's no catch! SID Instant EFT is free to use and mobile compatible! Choose SID Instant EFT for a simple, quick and safe way to transact.