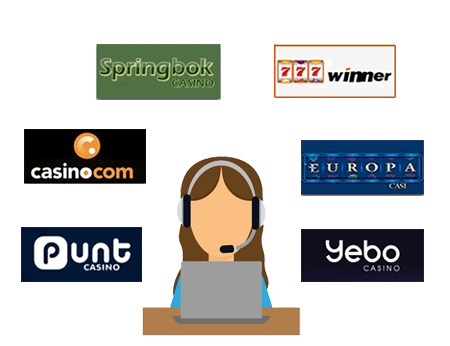 These days, with most things available almost instantly, it may be a challenge to hear that you need to wait patiently to access your online casino wins. South African online gamblers are intelligent enough to understand that payouts won't be instant, but they can still look out for the fastest paying casinos so that they can enjoy their wins quicker. The speed at which you can enjoy your online casino winnings depends on many factors, including the withdrawal method used and the online casino's withdrawal policy.
We've put together a list of recommended online casinos that have proven to be quick and professional when it comes to fast payouts. What makes these online casinos stand out is that they are ideal for South African players. These sites carry withdrawal methods that are perfectly compatible for local players and of course pay out in ZAR.
FASTEST PAYING CASINOS SOUTH AFRICA
Choosing the Best Casino Withdrawal Method
A lot of emphasis is put on choosing the right deposit methods when you want to fund your online casino account. But you also need to pay attention to the withdrawal methods on offer. Different sites have different rules, and it's worth checking what type of restrictions you will be faced with when you want to eventually withdraw your winnings. How much will it cost? What timeframes can the online casino commit to? Which withdrawal methods are supported?
Most online casinos will require that you withdraw your funds in the same way that you deposited. So, for example, if you use a credit or debit card to deposit money into your account, you will need to register the card as your default withdrawal method as well.
Most online casinos support all the standard credit and debit cards as withdrawal methods, as well as ewallet services such as Skrill or Neteller. You can also ask to cash out via bank transfers or prepaid cards.
Cashout Times at Online Casinos
There is no hard and fast rule about how long cashouts will take at online casinos. It depends very much on the banking method that you choose to use. It's safe to say, however, that a cashout can take anything from a single day (24 hours) to up to a month. The fastest paying casinos will work with withdrawal methods that typically take much less time to clear than others. These South African casinos will support e-wallet services which take just one to two days and are also safe and secure.
If you look at other methods, you will see that using a credit or debit card to withdraw your winnings takes anything from 2 to 5 working days. If you use any other method such as bank transfers or cheques, the time period becomes much longer, and you could wait up until 30 days before you see your cash in your account.
Another thing you need to take into account is that some online casinos take longer than others to actually process the withdrawal transaction. In some cases, it could as long as 72 hours until the online casino verifies your identity. If you want to make sure that your money reaches you quickly, cooperate with the online casino when it asks for documentation such as proof of address or driver's license. Most of us would rather wait an extra day but play at an online casino that takes our financial security seriously, than play at a site that is lax about our identity and could risk our payouts going to someone else.
Paying for Online Casino Withdrawals
One of the questions you need to ask the online casino is how much it charges to withdraw via a specific method. Don't assume that just because the fee is not listed on the site that there is no cost. Customer support would be your best bet in getting the correct answers if fees aren't listed. Once you have all the information, you can use it to decide which method suits you best.
From our experience, ZAR withdrawals via ewallets don't come with a fee, which explains why these are so popular among South African online casino fans. If you use other methods such as wire transfers or bank transfers, you are looking at fees of up to 10% of the withdrawal amount. You need to weigh the pros and cons of each and decide which method suits you and your gaming habits best.
FREQUENTLY ASKED QUESTIONS
Does it cost more to ask for faster online casino withdrawals?
No. An online casino will not charge you fees for performing a faster payout. Some online casinos just go about the process faster than others. Others use methods that are known to be quicker in general.
Why do some online casinos have a pending period between the time I ask for a withdrawal?
You will see that some online casinos list a pending period of anything up to 48 hours to start the withdrawal process. So if it says that a specific method takes 24 hours, you will start counting from after the pending process. As such, the entire process could take 72 hours. Online casinos claim that they need this pending period in order to sync all the bonus wagering requirements and make sure that you can withdraw everything that can be seen in your account. Our guess, however, is that the casino is hoping that you use this period to change your mind and continue playing with the funds in your account, without withdrawing it.
From your experience, which payment methods provide the fastest withdrawals?
If we were to choose the fasted withdrawal method available today, it would definitely be via ewallets. Within 2 days of the withdrawal process being processed, you should see the money in your ewallet account.
After I asked to withdraw my funds, the online casino asked to see my ID card. Is this normal practice?
Yes. Not all online casinos ask to see personal documents submitted for identification purposes before they process a withdrawal, but most do. A personal document is traditionally one that contains your name, your photo and/or your signature. An example of this could be your passport, or, in your case, your identity book. You probably won't be asked to submit your ID book next time.