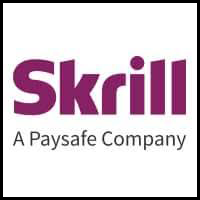 Whenever you visit an online casino and are looking to sign up, one thing that you will definitely look for is the range of payment methods the casino supports. There are of course other payment-related elements you will check for – the efficiency of payments, the speed of withdrawals, and more – but the first thing you will check for, because the payment method logos are listed on the home page, is the range supported. One payment method that you will see featured on the landing page of almost every recognized online casino across the world is Skrill.
There are many reasons for the huge popularity that Skrill enjoys among players across the world and definitely among players from South Africa. The most stated reason is that it is available for both depositing and withdrawing funds. Add to that the fact that it is easy to use and guarantees fast transactions and the reasons for its popularity become apparent.
What is Skrill?
Skrill is a very popular e-wallet that was founded back in 2001. At that time the company was known as MoneyBookers. It gained popularity instantly at that time, so much so that it was acquired by Investcorp Technology in 2007. A rebranding exercise followed and the new name chosen was Skrill, with the company name being changed to the Skrill Group.
The popularity of Skrill has resulted in massive growth and more acquisitions, including the 2013 acquisition of PaySafeCard and the 2014 acquisition of what was then the most popular prepaid voucher at online casinos in the UK – Ukash. Skrill is licensed by the UK's Financial Services Conduct Authority.
One look at the data we have collated and you get an idea of how big this payment method is and how popular as well:
Skrill has operations in more than 200 countries across the world.
More than 36 million users use its services.
It supports transactions in 40 currencies.
It supports more than 100 payment options globally.
It conducts its operations through an employee base of 5,650 personnel worldwide.
Top Online Casinos Accepting Skrill
#
Casino Review
No Deposit Bonus
Bonus Package
Games / Payouts %
 Play Now

1

Europa
R100 Free


On Registration

R24,000 Free
320+ / 97.8%
Play

2

Springbok
R350 Free
Coupon :

NDC350

R11,500 Free
300+ / 98%
Play

3

Winner
R15 Free


On Registration

R11,500 Free
310+ / 97%
Play

4

7Spins Casino
R450 Free


On Registration

R75,000 Free
200+ / 95.1%
Play

5

Yeti Casino
23 Free Spins


On Registration

R3,333 Free
300+ / 96.3%
Play

6

AfriCasino
R350 Free
Coupon :

NDC350

R10,000 Free
300+ / 97.5%
Play

7

Punt Casino
R200 Free
Coupon :

NDC200

R10,000 Free
350+ / 97.7%
Play

8

SilverSands
R200 Free
Coupon :

NDC200

R8,888 Free
390+ / 98.4%
Play

9

Yebo Casino
R350 Free
Coupon :

NEW350

R12,000 Free
350+ / 98.1%
Play

10

Thunderbolt
R350 Free
Coupon :

NDC350

R12,000 Free
380+ / 98.2%
Play

11

ZAR Casino
R350 Free
Coupon :

NDC350

R15,000 Free
129+ / 96.9%
Play

12

Casino.com
200 Free Spins
R4,000 Free    
400+ / 96.7%
Play
Almost every online casino across the world, and most definitely the ones that accept South African players, support Skrill as a payment method. While vetting online casinos to put on our list of casinos worth playing at for South African players, we definitely test them for payment support and Skrill features as a payment method in all of them. The following are the top casinos supporting Skrill.
Skrill and the Reasons for its Popularity among South African Players at Online Casinos
Skrill is popular among South African players at online casinos for a number of reasons. We list the top reasons for its popularity below:
It is free to sign up and open an account with Skrill.
The transaction fees for using Skrill are nominal.
The maximum cap on fees for using Skrill is just R100.
It is simple to use and guarantees instant deposits.
It is completely secure and reliable. The guarantee of security comes from a number of factors:
It uses advanced security technology like 128-bit SSL encryption as per the payment Card Industry Data Security Standards or PCI-DSS Level 1.
Skrill is also Verisign-certified for security.
It provides you with an additional layer of security in the form of Two Factor Authentication.
It comes with a 100% money back guarantee should you lose your money due to unauthorized account access. Of course, this is applicable only once it has been established that you have not compromised your account's security in any way.
Getting Started with Using Skrill: Opening Your Skrill Account
To use Skrill to make payments and withdrawals into and out of your online casino account you must first have a Skrill account of your own. Opening an account is simple and easy:
1. Visit the Skrill website and click the Open a Free Account tab.
2. On the new screen that appears, enter your e-mail id. You also have to enter a password for your Skrill account. Once you have filled these and any other details required, click Next.
3. On the subsequent screens provide all the personal details that the form asks for. These include your name, date of birth, residential address, country where you stay, and your preferred currency. As a South African players at an online casino that accepts payments in Rands, choose the Rand as the preferred currency. /
4. After filling out all the details click the Submit button to create your Skrill account.
Once you have opened your Skrill account you are required to add either your bank account or your credit card. This is necessary to be able to fund your Skrill account smoothly and transfer funds from and into it. This is one area where it differs from e-wallets like NETeller: NETeller does not make it mandatory to add an account at the time of signing up.
How to Transact with Skrill at Online Casinos
To deposit funds with Skrill, you must first ensure that your Skrill account has money in it. You can fund your account from the bank account or credit card that you had to link to your Skrill account at the time of registration. Remember, signing up with Skrill is free. Of course, there will be a transaction fee for using Skrill. You can find out about the fees per transaction from the customer support team at Skrill or at the casino you are registered with.
Transacting with Skrill at your online casino is a very simple and easy process.
1. Visit the Banker or Cashier section of the casino lobby.
2. On the screen that appears, click the Deposit tab.
3. Select Skrill as the preferred payment method.
4. You are redirected to the Skrill website.
5. Log in to the Skrill website using the username and password you had chosen at the time of opening your Skrill account.

Enter the secure Id number.
Enter other details, including the amount you want to deposit and other required details on the form provided.

6. Once you have entered data in all the required fields, click Confirm.
7. Then, on the resultant screen, click Submit to complete the transaction.
8. The money is transferred instantly into your casino account.
Most online casinos accepting South African players allow you to use Skrill to withdraw funds as well. All you have to do is visit the Banking or Cashier section of the lobby, click the Withdraw button, and choose Skrill as the preferred withdrawal method. The remaining process is the same as for depositing funds.
The difference is in the time taken; withdrawals are longer because of the verification process that the casino has in place to approve the withdrawal request. Once the withdrawal is approved, the money reaches your Skrill account quite fast. At some casinos it reaches your Skrill account in just 24 hours. Once the money reaches your Skrill account, you can transfer it to the account or credit card linked to it.
Frequently Asked Questions
In this section we list a few commonly asked questions about Skrill and how to use it at online casinos.