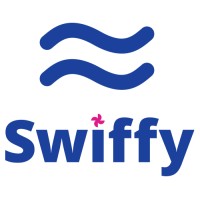 Online casino players are spoilt for choice when it comes to payment options. Since casinos cater to players from all over the world, they make an attempt to provide as many payment services from different regions as possible.
Most of these are familiar names like VISA, MasterCard, Neteller, and Paysafecard. In 2021, South African players may notice a brand new entry in the payments column at their online casino – Swiffy. It is a safe option for online casino withdrawals and deposits? What are its advantages? Let's explore this banking method in detail!
What is Swiffy?
Swiffy, often shown as Swiffy EFT or SwiffyPay, is a brand-new online payment service available to South African consumers. Launched in the country in 2020, Swiffy has grown quickly due to the increased demand for fast and secure online payments due to the COVID pandemic.
The payment service is based on the highly popular Electronic Funds Transfer (EFT) system available in South Africa. It is a convenient option for anyone who has an account at a South African bank. It does not require a credit card – which is a huge plus. Swiffy EFT is recognized by all major banks, like Bidvest, ABSA, Capitec, and First National. Another big advantage of Swiffy is that it is a company based in South Africa (Umhlanga, Durban) and caters exclusively to South African customers.
Naturally, Swiffy Pay allows you to transact in ZAR without the need for any costly currency conversions. That automatically makes it the perfect option for online casino players. This is why South African casinos have started embracing Swiffy so early! Here is a list of the top SA Online Casinos that support Swiffy EFT in 2022.
TOP ONLINE CASINOS ACCEPTING SWIFFY EFT
Online Casino
Welcome Bonus Package
Play Now
Deposit
Software

Europa Casino

R375 Free


On Registration

+
R24,000 Free
Play Now

✓

Playtech




320+ Games

Casino Tropez

R100 Free


On Registration

+
R5,000 Free
Play Now

✓

Playtech




450+ Games
Why Swiffy EFT is Getting Popular In South Africa
As a home-grown company, it is fully focused on South African customers.
No credit card is required for Swiffy Pay.
No need to create a separate wallet account.
All transactions are in ZAR – no currency conversion charges.
It is fully secured using advanced PCI-DSS standards.
The payments take place in real-time, in a few minutes max.
You can easily use Swiffy on PC and mobile.
All major South African banks are compatible.
Getting Started – How to Use SwiffyCompared to other online payment methods like e-wallets, Swiffy is incredibly easy to use. Since it uses your bank EFT, Swiffy does not even need you to sign up or create a wallet. You can straight away start using Swiffy as a payment method from your online casino. Just follow these steps:Deposits
Open your casino account and go to deposits.
Pick Swiffy from the list of available methods.
It will ask you to provide your bank account details.
Enter the details and set the amount you want to pay.
You will then be taken to your bank's secure payment page.
Enter your online banking password to authorize the transaction.
Swiffy will transfer the money using the secure EFT method.
As you can see, Swiffy does not need you to provide any credit card/debit card details at any point. All that is required is an account with a recognized South African bank. If you have an account in any of the following banks, you can use Swiffy:
Bidvest Bank
ABSA Bank
Capitec Bank
First National Bank
Standard Bank
Nedbank
TymeBank
Investec
African Bank
Old Mutual Bank
You will, of course, need a registered online banking account at one of these banks to use the EFT payment method. But it is much, much easier to get that than apply for a credit card – anybody can set it up.Advantages of Using Swiffy at Online CasinosAs explained in the previous section, using Swiffy at an online casino is easy as pie. As long as your bank account is registered for EFT, you can start using Swiffy instantly without any registration. Being based on EFT gives Swiffy several advantages over other payment methods.For starters, it does not gain control of your funds at any time – the money is moved using EFT, which is a payment channel used by established South African banks.
Swiffy or any other third-party gains no access to your account details or funds. As ZAR is the default currency used for all Swiffy transactions, it has a big advantage for South African players. You can deal in your own currency without worrying about currency conversion charges.Excellent customer service is another advantage of using a payment service that is based in your own country. Swiffy is a startup created by a trio of vastly experienced professionals in South African banking, e-commerce, and financial services. Further, using Swiffy does not incur any extra charges. In fact, since it is a brand-new payment method, casinos often promote it using bonuses and special promo offers. You may even get some cashback advantages for using Swiffy at an online casino!
FREQUENTLY ASKED QUESTIONS
As a brand-new payment method, Swiffy is still unknown to many customers. Naturally, you may have some serious questions about this payment method. Here, we will try to answer some of the most pressing questions:
Is Swiffy a reliable payment method?
Yes, despite being a relatively new payment method, Swiffy is completely safe and reliable. It uses the already popular EFT method for payments. The payment method is already linked with SA businesses like BioTherm Energy, Restaurant Association of South Africa (RASA), South African Broadcasting Corporation (SABC), RCL Foods, and many more.
Is Swiffy really safe?
Yes, Swiffy uses the best in class PCI DSS security standards – they are the same used by all major banks and credit cards. And EFT is already recognized as a secure banking method in South Africa. Swiffy EFT is completely safe.
Is Swiffy truly a South African company?
Yes, the company has its headquarters in Umhlanga, near Durban. The key executives behind it are individuals with more than 50 years' experience (combined) in South African payments, banking, and e-commerce sectors.
Is Swiffy a free payment method?
Yes, you do not have to pay any extra charges for any payments made using Swiffy, including online casino deposits.
Do I need a credit card for using Swiffy?
No, you only need an online banking account to use Swiffy. It can be an account with any major South African bank that supports the EFT system.
Do I need to register separately to use Swiffy?
As long as you have an EFT-capable online banking account, you do not need to register for anything else. Just use your online banking username and password to authorize the payments through Swiffy.
Can I use Swiffy on mobile?
Yes, Swiffy is fully compatible with mobile devices. You can use it for casino deposits using the browser itself. And beyond that, SwiffyPay on WhatsApp is also available for online shopping, paying bills, purchasing mobile data, and more.
Why choose Swiffy for South African online casinos?
Since it uses ZAR, Swiffy is a convenient and economical option for South African casino players. It is also quite fast, resulting in an instant deposit of funds. The support is also excellent, with email, Whatsapp chat, and telephone numbers available in case of any transaction issues.