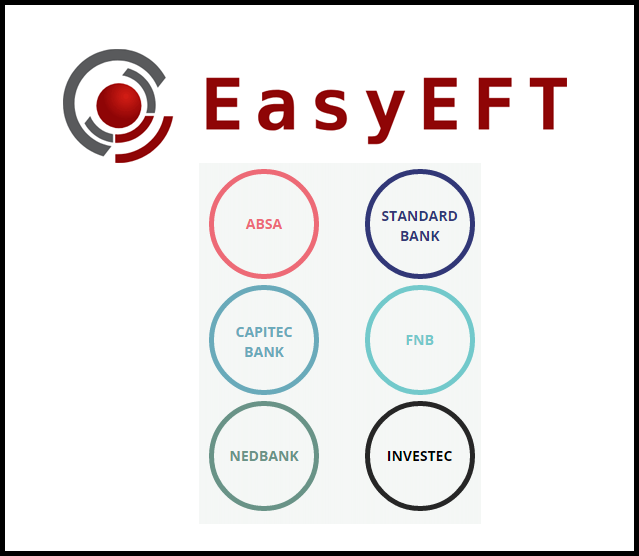 Every online casino knows that the one area that it has to be really sharp is in helping their players make their deposits and withdrawals smoothly and fast. Nobody wants trouble when they are depositing money, and even less when they are withdrawing it. That is why a number of online casinos try to offer players from different countries a chance to use payment methods that they are familiar with. One method available to South African players at some of the online casinos that accept them is EasyEFT.
EasyEFT is a very popular payment method among South African players at online casinos. This is because it is, as the name indicates correctly, very easy to use. And it is extremely fast and totally secure. Another big reason for its popularity among South African players is that it works really well with the South African banking industry.
What is EasyEFT?
EasyEFT is a very popular way of transacting online without having to worry about security, delays, and all those other hassles that you find in a number of other online payment methods. The EFT in the name stands for Electronic Funds Transfer. This is just like any other electronic funds transfer instrument, except that it is meant for South Africans only.
EasyEFT is currently owned and operated by South Africans, though the company is headquartered in Mauritius. Initially created with the objective of allowing merchants to offer a fast and safe payment mechanism to their clients, it is now open to individual users as well. This method does not require you to have a credit card, and that is a huge deal for many players.
TOP ONLINE CASINOS ACCEPTING EASYEFT
EasyEFT is a company that is owned and operated by South African people, and that is why it is only natural that a number of leading online casinos that accept South African players support this speedy and secure payment method. We have put together for you a list of the top online casinos that support payments with EasyEFT.
EasyEFT and the Reasons for its Popularity
EasyEFT is one of the more popular payment methods that you will find South African players using when they play at an online casino. Here are a few reasons for its popularity.
It is owned and operated by South Africans, so they obviously have the best interests of South African players in mind.
EasyEFT is extremely easy to use.
You do not need to have a credit card to be able to use EasyEFT.
EasyEFT is completely secure.
There is no currency conversion required as transactions are carried out in the South African Rand (ZAR).
There is no third party interface, like an e-wallet, to deal with when you use EasyEFT.
You can use it to make payments directly from your mobile device as well.
Getting Started with Using EasyEFT
EasyEFT is offered by a number of online casinos that accept South African players. To use this method you will need to register with EasyEFT first. That too, like the transaction process using EasyEFT, is very simple and easy to do.
1. Visit the EasyEFT website.
2. Click on the Register button.
3. Choose a username and a password for your account.
4. Enter the details that are required into the different fields on the page.
5. Click the Submit button to complete the registration and get your EasyEFT account.
There is no need to add a credit card to your account. However, you must have a bank account with one of the following South African banks and financial institutions to be able to use EasyEFT:
Standard Bank
First National Bank
Capitec Bank
Nedbank
Absa
Investec
Another option you have is to download the EasyEFT app from the play store of the mobile platform that your smartphone or tablet runs on – Android or iOS. You will need to register with EasyEFT, nevertheless.
How to Transact with EasyEFT at Online Casinos
EasyEFT, as mentioned earlier, was specially crafted to cater to South African online casino players. Of course, online casinos are not the only place you can use EasyEFT; you can use it for any online payments as long as you have an account with one of the 6 South African financial institutions listed earlier and are registered with EasyEFT.
1. Visit the Banking or Cashier section of the casino lobby.
2. Click the Deposit tab.
3. Select EasyEFT from the list of payment options provided and enter the amount you want to deposit.
4. You are taken to the EasyEFT page. Select your bank from the options provided.
5. You are taken to the login page of your bank. Enter your online banking username and password.
6. Fill in the required details and click the button below to complete the payment.
The best thing about EasyEFT is that it ensures that the money stays within the banking system. There is no third party that gets access to any of the information or even gets to process the funds. This method creates a direct link between the casino's cashier or banking division and your bank account. As a result of this, deposits using EasyEFT happen instantly.
You can also use EasyEFT to withdraw funds from your casino account to transfer to your bank account. The process is more or less the same. The only difference is that you will click the Withdraw tab when you are at the banking or cashier section of the casino lobby. Another difference is that withdrawals take a little more time than deposits because of the process that the casino has in place to verify your information.
There are no charges from EasyEFT for using their method, though the casino may charge a fee for using it. There may also be charges applied by the bank you are transacting with, though the charges themselves are nominal. The minimal amount you can transfer using EasyEFT is R25.
FREQUENTLY ASKED QUESTIONS
EasyEFT is a relatively new payment method available to South African players playing at online casinos that accept them and allow payments in Rands. Therefore it is natural to have questions about this cool payment method. We list for you here some of the commonly asked questions about using EasyEFT.
IS EASYEFT A SAFE BANKING METHOD?
EasyEFT is a completely secure banking method because it provides you all the security cover that you may want through the sophisticated security technology that your bank uses.
HOW MUCH TIME DOES IT TAKE TO TRANSACT WITH EASYEFT?
EasyEFT is not only easy to use it is very fast. Deposits are instant, and withdrawals take a maximum of 2 days to process.
WHY OPT FOR EASYEFT?
EasyEFT is a great option to use because it is only for South African players. Apart from being fast and secure, it also conducts transactions in Rands so there is no need to get into the hassle of currency conversion with this method.
WHAT ARE THE GAMES I CAN PLAY IF I USE EASYEFT?
Using EasyEFT does not affect your choice of games; you can play any game you want at the online casino.
CAN I MAKE PAYMENTS USING EASYEFT FROM MY MOBILE DEVICE?
Yes, you can make payments using EasyEFT from your mobile device. All you have to do is download the app from the play store of the mobile platform that your mobile device runs on.