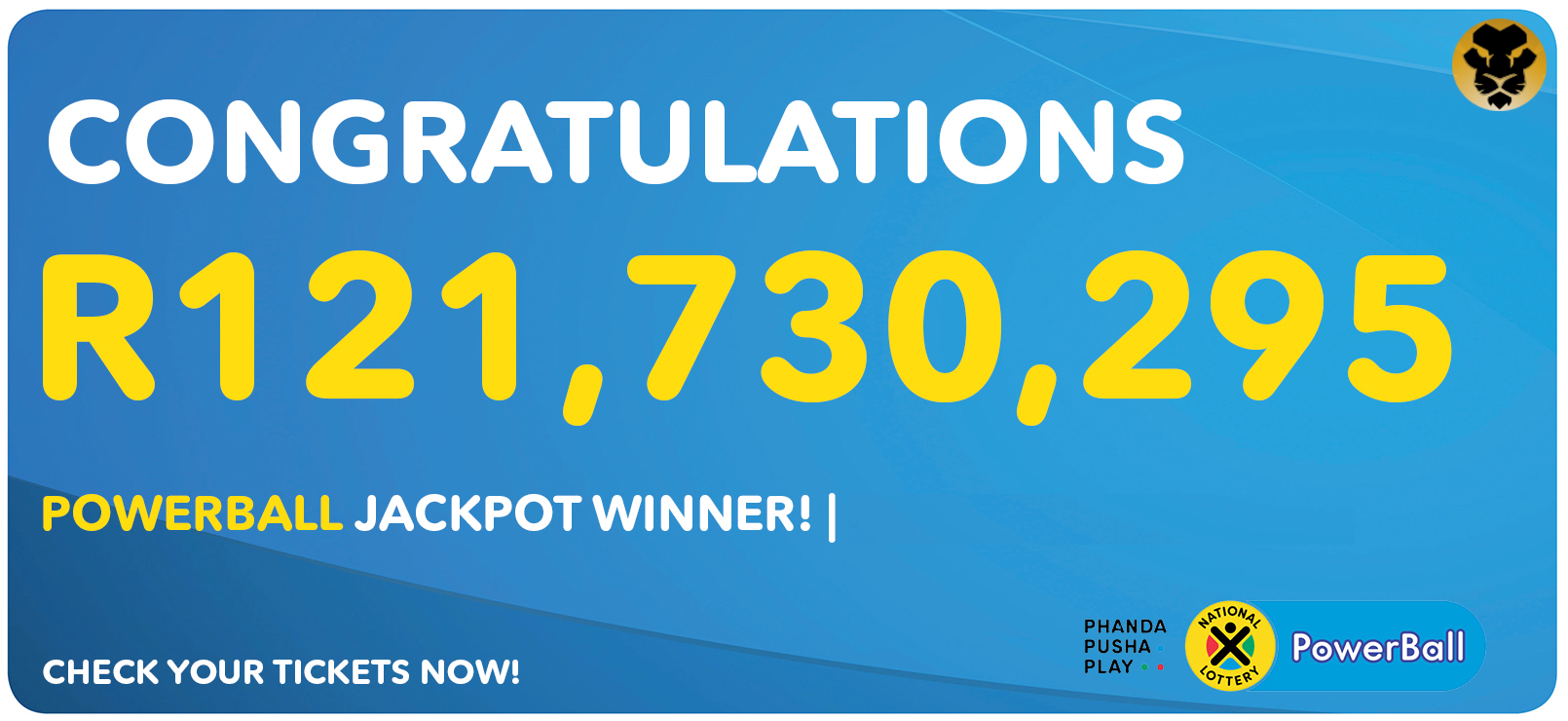 The National Lottery operator, Ithuba, is waiting impatiently someone from the Free State to come forward and claim their Powerball lottery prize – an eye-watering R121 million. The winners, who may not even be aware of their good fortune, purchased the R15 Powerball ticket in Bloemfontein or Bloemspruit. The head of corporate relations for Ithuba, Busisiwe Msizi said in a statement yesterday:

"We are excited that we have produced another big jackpot winner this year. We urge all players who bought their tickets in Bloemspruit, Bloemfontein, to check their tickets," he said.
---
"We understand that the winner could be experiencing feelings of both excitement and anxiety at winning this large sum of money, but we want to assure them that we are prepared to assist them through a smooth claiming process."
The final prize, R121,730,295.90 to be exact, is the third highest Powerball jackpot to be won this year so far. Earlier this year, two different winners from KwaZulu-Natal won R135 million and R153 million respectively.
Mixed Emotions Over Lottery Win
Saying that winning such a huge amount is life-changing, is a massive understatement. The winner will most likely be facing feelings ranging from joy to anxiety. In fact, Ithuba is aware that this is a common problem among lottery winners – not just in South Africa, but around the world. As a result, lottery operators offer counselling to winners who win over a certain amount. Mzisi said that once the winner's ticket has been validated, the operator's first step is to offer winner trauma counselling.
"Becoming R121 million richer overnight can be overwhelming to anyone; we intend to assist the winner to digest the news and enjoy every step of the life-changing experience," he said.
"Trauma counselling will be followed by extensive financial advice to assist the winner with their financial planning to make sure they become financially secure for generations to come," he added. In the case of the R153 million Powerball Plus winner in July, the winner reported that he had "mixed emotions" when he found out that he won. As part of the "Winners Package" Ithuba offered him trauma counselling and financial advice, available to anyone who wins more than R50,000.
About Powerball + Powerball Plus
Twice a week (Tuesday and Thursday), players can choose 5 out of 50 numbers and one number out of 20 numbers to enter into the draw. Players can play Powerball or Powerball Plus by:
Presenting a bet slip to a retailer
Asking the retailer to enter certain numbers manually into the terminal
Requesting a number selection to be made randomly via Quick Pick
Choosing a random set of numbers at an alternative point of sale, such as ATMs, mobile applications, mobile phones and other channels.
Tickets can be bought up to 30 minutes prior to the draw. The odds of winning a Division 1 prize (by matching 5 numbers and 1 Powerball) are around 25 million to 1. The Division 1 prize makes up 54.4% of the total winning pool. Players can win right down to a Division 9 prize (matching the Powerball number), which awards a R10 fixed prize.