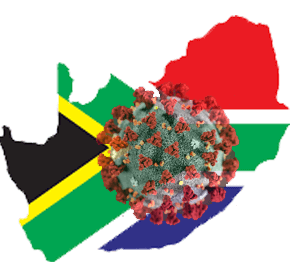 Just as South Africa's casino and tourism industries started to breath once more following months of lockdowns and alcohol bans, along came a new strain of COVID-19 – showing everyone how very little we know about this global pandemic.

On Friday, the WHO announced that a new strain of the virus was discovered in South Africa. Named B.1.1.529, the strain has already wreaked havoc on share prices of some of the country's largest casino groups. According to Reuters, the South African Rand is already at its lowest since October 2020, dropping to 16.38 c against the dollars.
---
The new variant shaved more than 2% off stocks overall, and hit the South African casino industry even worse. For example, shares in Sun International, trading as SUIJ.J, lost almost 6.5% of its market value practically overnight, following the news.
Britain and many other countries have banned flights to and from South Africa and its neighbors, and have placed significant restrictions on their citizens who visit. This has obviously led to a strong decline in hospitality shares in an industry where hotels were just starting to see some movement.
Devastating for South African Casino and Tourism Sectors
An analyst for ETM Analytics, Lloyd Miller told Reuters: "This is devastating for the tourism sector which was hoping for a bumper December as borders had opened up. We expect that a wave of cancellations from travellers from the UK will be received over the next day or two."
Already mass cancellations have started pouring in for what is South Africa's busiest time of the year.
The CEO of the Southern African Tourism Services Association (SATSA), David Frost said everyone in the industry was "gutted and devastated" by the wave of cancellations and that South Africa was once again placed on Britain's red list.
"We have members whose guests were leaving for South Africa as we speak. We would have hoped that we live in a world where science would first be allowed to unfold before punishing us with immediate labelling. As soon as the UK put SA back on its red list, our members saw cancellations pouring in," Frost said on Friday.
"There is no hope for a good summer season in SA. We want to engage with the SA government to try and avoid a draconian approach and to rather wait for scientific data on which to base a sensible approach."
Situation is Unsustainable
Other industry representatives have warned that the current situation is unsustainable in a sector that generates over 1.5 million jobs in South Africa. They said that 2021 simply cannot be a repeat of December 2020 where restaurants and casinos bore the brunt of COVID-19 regulations, making travel and restaurant patronage unappealing and difficult.
Sun International said that most of its bookings for the summer season were from domestic travelers and the group was still preparing for a busy season – despite the new strain. In the meantime, the South African Tourism Minister, Lindiwe Sisula, said that all measures are in place to ensure patrons' safety.