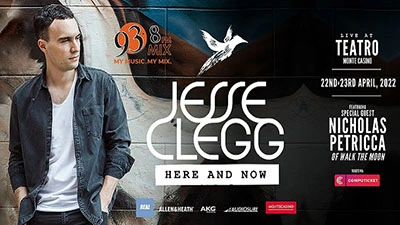 The son of one of South Africa's greatest performers and a talented singer and performer in his own right, Jesse Clegg, will be performing at the Teatro at MonteCasino this weekend. Jesse, son of the late, great Johnny, will present an intimate, personal musical performance. He'll showcase many of his own original songs, as well as music that has inspired him along his own musical journey.

The audience can look forward to hearing many of his hit songs from his first three albums such as Use Me, Today, Breathing, Speed of Light and Let it Burn. He'll also be performing his latest single, Waiting on the Outcome.
---
Tickets for the show, Here and Now, which will run at the South African casino on April 22nd and 23rd can be purchased at Computicket from R250.
Celebrating the Past, Present and Future
Jesse Clegg spent years touring with his father as a child. He soaked up the African-inspired songs and music and watched how Johnny formed a strong bond with his fellow musicians and band members. Several years ago, Jesse stepped out of his father's shadows and started performing his own original music.
He developed his own comradeship with local and international artists, some of who will be flying in to perform at the MonteCasino show with him.
One of them is Nicholas Petricca, member of Walk the Moon band. Jesse Clegg has spent a significant amount of time writing, producing and recording with Petricca in Los Angeles, and has been inspired by this talented musician.
Speaking about his upcoming shows at MonteCasino, Clegg said: "I wanted to find a way to celebrate where I had come from, where I was now and where I'm going."
"I learnt from very early on that it would take hard work and dedication to make a success out of a music career," he said. "I've always pushed myself as a songwriter and performer. Creating music has always been a way for me to understand the world and my own experiences."
MonteCasino: More than a World Class Casino
The Teatro at MonteCasino is just one of the many fantastic features that you'll find at the complex.
It's not easy to ignore the fantastic gambling opportunities that you'll find on the casino floors of Gauteng's award-winning destination, such as 1,200 slot machines to choose from, awesome table games such as American Roulette, Dice, Baccarat, Poker and Blackjack; and a private casino gaming experience at the Prive section.
But the versatile theater, the Teatro, adds an extra element of entertainment. The theater hosts award-winning, classic and contemporary performances throughout the year. You'll find local and international productions, ranging from musicals and comedy to ice-skating shows and acrobatics.
Since 2007, the Teatro has hosted shows such as The Lion King, Phantom of the Opera, Jesus Christ Superstar, Riverdance, The Sound of Music and St Petersburgh Ballet. Performing stars included Joe Jackson, Annie Lennox, Suzanne Vega, Trevor Noah and Johnny Clegg. Buy tickets to Jesse Clegg's show Here and Now at MonteCasino today!