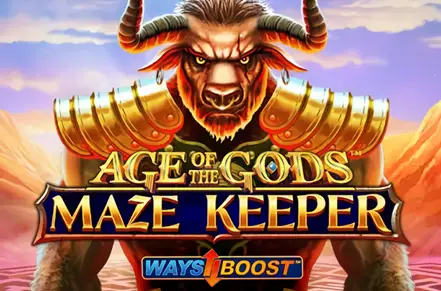 Playtech continues to build on the huge popularity of its Age of the Gods series by rolling out new titles on a regular basis. Fans of the series will be happy to note that the online casino software group will be releasing a new title – Age of the Gods: Maze Keeper – in November, 2021.

Maze Keeper is themed on characters from Ancient Greece mythology, in line with the whole series which looks to ancient civilizations for inspiration. Playtech hasn't revealed everything there is to know abut Maze Keeper just yet, and we'll be publishing more information about this upcoming release as soon as we have news.
---
But here's what we do know about Age of the Gods: Maze Keeper
Initially, the game is played on 6 x 4 reels and has 4,096 ways to win.
Thanks to the WaysBoost feature, you have the opportunity to increase this to 14,400 ways to win.
The main bonus feature is the Free Spins feature, which can be played with the WaysBoost to increase your chances of winning.
Other bonus features include wilds, scatters and multipliers.
Maze Keeper shares the progressive jackpot with other Age of the God slots in the series. There are a total of four progressive jackpots that can be hit. The largest is the Ultimate Power jackpot, followed by the Super Powerjackpot, the Extra Power jackpot and the Power jackpot.
Based on the Minotaur persona, also known as Keeper of the Maze in Greek mythology, which plays a main role in the game.
Other symbols on the reels include personalities that feature in the Keeper of the Maze tale, as well as Helmets, Double Axe, game logos and card symbols (Nine to Ace).
About Age of the Gods Series
Since Playtech first launched it Age of the Gods series in 2017, the group has rolled out more than 20 titles. Playtech first chose to introduce an exciting and immersive new series after it lost the rights to use Marvel comic characters in its games. For many years, some of Playtech's most popular games were made up of Marvel games, and the group needed a new series.
The Age of the Gods series has managed to fill the void, especially since it also carries a four-pot progressive jackpot. The Ultimate Power jackpot regularly pays out six figure sums and can be triggered on any spin and with any bet size.
The Age of the Gods series isn't only about slots. There are also several Age of the Gods-themed roulette games with an attached progressive jackpot for extra table game fun.
Some of the Age of the Gods slot games in the series include: