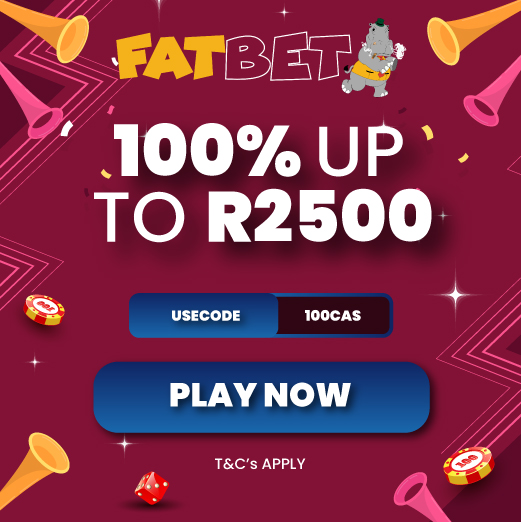 Africa is host to a varied ecosystem of majestic wildlife, large and untamable beasts. None more resolute and fearless as the hippo. Larger than life and able to run as fast as 50km/h, it's known to take on any animal with determined efficiency to protect itself and its young. In short, the hippo is speedy, reliable, fearless and wildly unpredictable. Traits that are interwoven and interconnected on FatBet Casino. This is why FatBet has chosen Humphrey the High-Roller Hippo as its avatar.
FatBet Casino is driven by those exact traits. Fast, fearless, reliable and protective of its Players with unpredictability in what it has to offer to new and existing members. With a design that takes on a more modern and fun to look at web page with the principle being accessibility.
FatBet's core initiative is to provide Players with a fun, easy to use, reliable and safe entertainment site with a simple sign-up process and accessibility on any mobile device and desktop. Anytime. Anywhere. FatBet runs on the most recent and frequently updated software on the market today.
FatBet offers a wide variety of banking and crypto-currency options, accepting VISA & Mastercard, Instant EFT and Crypto-currency.
Its diverse selection of over 350+ Games, including regularly updated and new fun Slots, Live Games, unmatched Bonuses and Promotions on offer every day, and dedicated online support. New members are privy to a 3-step Welcome Offer with a 100% Match Bonus of up to R25,000! With 100% Match up to R10,000 on your 1st Deposit. Then 100% Match up to R5,000 on your 2nd deposit and finally a 3rd deposit with a Match of 100% up to R10,000!
Sign up today and experience one of South Africa's top Online Casino sites that offers an incredibly diverse array of Bonuses and Promotions for Players to choose from.
25 JULY 2023 – UNFORTUNATELY,FATBET CASINO IS NO LONGER AVAILABLE. THEY ARE SCAMMERS AS WELL. PLEASE CLICK HERE TO VIEW A LIST OF SOUTH AFRICAN ONLINE CASINOS
R500 Free No Deposit Bonus
Claim Coupon Code :

FATB500
100% Match Bonus Up To R25,000
MasterCard, Instant EFT, BTC, Visa
| | |
| --- | --- |
| No Deposit Bonus | R500 Free |
| Coupon Code | FATB500 |
| Welcome Bonus | R25,000 + 150 Spins |
| Mobile Devices | Android, iOS, Samsung |
| Play Options | INSTANT PLAY, MOBILE |
| | |
| --- | --- |
| Software | Multiple |
| Operated By | FatBet Casino |
| License | Curacao |
| Support | [email protected] |
| Currency | ZAR |
HOW TO REGISTER AND LOGIN AT FATBET CASINO
Here are easy-to-follow-steps to become part of the best online casino in South Africa.
Click on JOIN NOW.
Follow the steps and fill in the required ACCOUNT INFORMATION.
Click on START PLAYING.
To Logout, click the orange "X" button on the top right of the page.
To Login again, simply enter your USERNAME & PASSWORD
Click LOGIN.
Fatbet Casino Bonuses, Promotions and Coupon Codes
We provide Players with BONUSES and WEEKLY PROMOTIONS on offer. Our goal is for all Players to have fun on FatBet. As established before, New Players will be given a WELCOME BONUS that works as a 3-step offer to enhance your gaming experience.
All Daily Promotions accredited to the Player must be used within the allocated time frame before the next day's Promotion is activated. Failure to use the redeemed Promotion will result in a forfeit to any Promotion benefit.
From FREE SPINS to MATCH BONUSES, you are offered a buffet of OFFERS to choose from which are elaborated on more below:
R500 FREE NO DEPOSIT BONUS
Get a No Deposit Bonus of R500 on registration to Play and Enjoy on all selected games as well as 150 Free Spins on First Deposit with a minimum deposit of R100. If all wagering requirements are met a Player is eligible for cash out.
Wagering requirements on all Free Money and Free spins given is 60x and 40x on all Deposit Bonus Offers. A maximum cash out applies to this Promotion.
How to Redeem Your R500 No Deposit Bonus + 150 Free Spins
Use Promo Code: "FATB500" to claim your R500 No Deposit Bonus.
After your Account Registration has been completed, follow these prompts to claim your No Deposit Bonus:
On the Main Page click on the "CASHIER" button.
At the top right click on the "PROMOTIONS" sub-tab.
Enter PROMO CODE "FATB500" and click "APPLY".
You have now redeemed your exclusive R500 No Deposit Bonus. Please note, the No Deposit Amount will only reflect in your Account once the code has been activated.
Bonus available: R500 free
Coupon Code: FATB500
Bonus Type: Free No deposit bonus on sign-up
Validity Period: Active (exclusive to SAC)
Permitted Games: All games except progressives.
Unless otherwise stated, 1 credit wagered in a game counts as 1 credit toward playthrough requirements.
Play at the following games and any variant is not allowed and the winnings can be considered as null and void: Game Type: BetSoft Promotion-Ineligible, Qora Progressive, Slot Progressive. Double up wagering does not count toward playthrough.
Play at the following games, and any variants, count toward playthrough requirements at a reduced rate: Game Type: Arrow Tables (1/5) Blackjack (1/5) Blackjack with Sidebets (1/5) Craps (1/5) Dragon Tables (1/5) Ride 'em Poker (1/5) Roulette (1/5) Videopoker (1/2) The wagering requirement (or "playthrough") is the amount that must be wagered (put at risk) before you may cashout.
Outside bets for Roulette are not allowed for this promotion.
You must win at least 0.5 times the amount of the bonus before a withdrawal is allowed. You may only make a withdrawal when your balance is greater than your starting balance plus any deposits or withdrawal reversals, plus your bonus, plus the win amount of 0.5 times the bonus, plus any converted comp points. For example, if you have R100 in your account and you deposit R20 and receive a R20 bonus with a 1 x bonus win requirement, you may withdraw when your balance is greater than R160.
* NOTE : If your balance is greater than the maximum cashable amount the remainder will be removed automatically on cashout Wagering Requirements: 60x the bonus amount, i.e. R30,000 before withdrawing Maximum Cashout: R250
100% Match of up to R25,000
Our WELCOME BONUS consists of a 3-step offer. This offer is divided into the first 3 deposits. With a minimum deposit of R100 a Player will receive a 100% Match Deposit Bonus of up to R25 000 as stipulated below:
1st Deposit Bonus : 100% MATCH BONUS up to R10 000.
2nd Deposit Bonus : 100% MATCH BONUS up to R5 000
3rd Deposit Bonus : 100% MATCH BONUS up to R10 000.
Claimable: Once per Player
Qualifying Deposit: R100
Wagering Requirement: A Player would need to wager 40x the Bonus + Deposit amount to be eligible for cash out.
Games: This Promotion can be played on a variety of selected games such as Slots, Poker and so much more.
How To Claim The 3 Step Welcome Bonus
This promotion is claimable in the Casino Lobby by following the below easy steps
Log Into Your FatBet Account
Go to the Cashier Tab in the Right-Hand Corner to access all Promotions
Select your Welcome Bonus and Claim Now
The Bonus will be auto credited into Your account, Play and Enjoy!
In addition to the No Deposit Registration Bonus, you will receive 150 Free Spins on your first deposit. Minimum Deposit is R100. All offers need to be claimed in the CASHIER Lobby under the Promotions tab.
Half Price Mondays
We're all familiar with the expression "Having A Blue Monday". We've heard it on the radio and seen it in articles we read. It's the most expressive way to say that you're not looking forward to both Monday and the week that lies ahead. It's seared into our brains to associate the color blue with a melancholic mood.
FatBet Casino would respectfully disagree with the comparison. So, we're taking back the phrase and putting a new spin on it. Get a 50% Deposit Match Bonus offer of up to R2000 to play on a huge variety of games available to you and avoid those beginning of the week down and out mindset.
Triple Stack Tuesdays
Two's company and three's a crowd. That's how it goes. Don't let that leave you feeling crowded on Tuesdays. After all, you've survived Monday, so the hard part's over. Rather go full excess and triple stack your fun today with an offer so good you won't need to look twice to believe your eyes.
Make a R100 at Minimum Deposit and you will be provided with 111 Free Spins. But wait, there's more! We'll triple your number of Free Spins to 333 so you can have 3 times the fun.
Weigh In Wednesdays
Hump Day's here! Half-priced cocktails at your local watering hole and karaoke nights with your friends, singing Bohemian Rhapsody off key. Wednesday is seen as the middle-child of the week. Not quite far away enough from Monday and not close enough to Friday. It's where optimism and pessimism come together in a strange marriage of mixed feelings. But don't let it leave you confused as to what the state of the day is supposed to be.
Instead, have a go at the "Special of the Day", so to speak. Wednesday allows you the opportunity to place a Wager of any amount on any of their favorite selected Slot Games and stand the chance to Win a Portion of R20 000 in Prize Bonuses. Players can wager any amount as many times as they wish.
Twice as Nice Thursdays
In the days of old when Vikings crossed treacherous seas to unknown lands, Thursday was known as "Thor's Day", and rightfully so. The week is at its golden hour and you've been putting the hammer to the anvil to achieve thunderous results. It's tiresome, but still, you pound away to create the best results of your craft. But they say "All Work and
No Play Makes Jack a Dull Boy", so we've made Thor's Day Twice as Nice for you.
With a Minimum Deposit of R100, you will receive 100 Free Spins and a 50% Match Bonus Up to R1000.This promotion can be played on multiple games including selected new games.
Along with the above stipulated daily Promotions, we offer Cashback Incentive to qualifying Players, starting today and going on through to the following Wednesday.
FatBet Frydays
It's finally here, isn't it? The moment we've all dreamed about, Friday. The end of the week. The twilight of toil. Now don't fall asleep before we've started, because we've still got to make a fire, pour a stiff drink and make a salad. Once your Friday's become "Fryday" and the meat is on the grill, pour another two fingers with ice and take a look at what we have ready and waiting for you.
On Fridays, with a Minimum Deposit of R100 you'll receive a 100% deposit match bonus up to R3000. Just make sure not to burn anything as the heat turns up.
Spicy Saturdays
The guys are over, the beers are cold, the coals are hot and tunes are playing in the background as the game is on. It's a good day, a fun day with not a care in the world. Things are heating up here on FatBet too! With a Promotion that'll have you screaming with joy louder than when your favorite player scores a goal. In shock and surprise, you spit out beer in amazement as you take a look at what's displayed on your screen. And spillage is downage, so finish your favorite brew and crack another cold one and treat yourself with something sweeter than a marshmallow on the fire.
Every Saturday, deposit a minimum of R100 and receive a spicy 50% deposit bonus match offer up to R2500 to have fun with on any of the selected games.
Sunday Lunch
And it was decreed that Sunday would be a day of rest. Relaxation. Kicking back and catching up on your favorite shows. But resting doesn't mean the fun should be absent. But like the TV remote, your laptop is just too far to reach. But wait! You just realized that you can play on your phone! Hot diggidy dog, now we're talking! So, you open your browser and login to have yourself a looky-loo at what's on offer today. Well:
Sunday offers 3 different Bonuses for you to choose from:
Deposit a minimum of R100 and receive 300 Free Spins.
Or get a 50% match bonus offer up to R3 000.
And finally, 100% match offer up to R5,000 + 100 Free Spins.
LIVE GAMING
FatBet plays host to a range of Live Games and Tournaments, including but not limited to: Baccarat, Blackjack and Roulette that is just a click away. Play against other players in Live, interactive Gaming Sessions. You can have the same experience as seated in a land-based casino all from your living room or anywhere you choose to play. Interact with your dealer by live chat and make the experience so much more real.
VIP PROGRAM
At FatBet, our VIP Program aims to enhance the experience of Players ready to take their Gaming to the next level. The VIP Program works on a set of Tiers, each of which comes with its own set of Benefits such as our own Loyalty Program, called CHOMP Points, that caters to the Players' specific tastes, which are as listed below:
Our Tiers:
Silver
Exclusive Weekly Bonuses
High Deposit and Withdrawal Limits
Higher earning of CHOMP Points
Quicker Cash-in processing
Gold
Exclusive Weekly Bonuses
Higher Deposit and Withdrawal Limits
Double Earnings on CHOMP Points
Quicker Cash-in processing
Access to an Account Manager
Platinum
Exclusive Weekly Bonuses
Higher Deposit and Withdrawal Limits
Triple Earnings on CHOMP Points
Quicker Cash-in processing
A Dedicated Account Manager
Specifically tailored Gifts and Rewards for you
Elite
The Elite Tier is available by Invitation Only. 
FATBET CASINO MOBILE - ANDROID & APPLE
FatBet Casino offers an easy to play experience on any mobile device, with a sleek design to accommodate all Players.
No unnecessary downloads needed, just log onto the FatBet site on any web browser.
The layout for mobile devices is just as simple and easy to navigate as the computer browser.
The mobile versions of our Games are coded in HTML5 and works both on:
Android
iOS
Windows Phone
Whether on the patio while on holiday away from home or at your favorite café or restaurant, FatBet is accessible all-round so you don't skip a beat in your Gaming sessions.
HOW TO PLAY FATBET CASINO MOBILE
Simply log onto FatBet on your mobile device's web browser and follow the Login process:
1.Click the Menu Tab at the Top Left of Your Screen.
2.Click on LOG IN.
3. Enter your USERNAME & PASSWORD
4. Click LOGIN.
???? Depositing & Withdrawing @ FatBet Casino
We offer secure and reliable payment methods to provide a safe gaming experience to all Players. Minimum and Maximum deposit amounts will differentiate depending on deposit method chosen. All withdrawals will be processed within a 48-hour pending period, excluding public holidays and weekend.
We accept all VISA & Mastercard Credit and Debit Cards, Instant EFT and Crypto-currency. You can deposit in South African Rands (ZAR).
Deposits
| | | | | | |
| --- | --- | --- | --- | --- | --- |
| Deposit methods | Type | Fee | Process time | Minimum | Maximum |
| Visa & Maestro | Credit Card | FREE | INSTANT | R100 | R25,000 |
| Instant EFT | Bank Transfer | FREE | INSTANT | R100 | R25,000 |
| Bitcoin | Crypto | FREE | INSTANT | No Limit | No Limit |
Withdrawal
| | | | | |
| --- | --- | --- | --- | --- |
| Withdrawal methods | Type | Process time | Minimum | Maximum |
| Instant EFT | Wire Transfer | 3-5 Days | R500 | R20,000 |
| Visa & MasterCard | Credit Card | 3-5 Days | R500 | R20,000 |
| Bitcoin | Crypto | 3-5 Days | R500 | R20,000 |
Please note all minimum and maximum transactions made within Deposits & Withdrawals are standard and subject to the Casino Terms & Conditions and are likely to change according to VIP status.
Fatbet Casino Software
All available games in the casino lobby were developed and crafted with care with the goal of giving you the best gaming experience today by some of the best and most trusted developers in the business.
FatBet Casino runs on multiple platforms including:
Rival
Fresh Deck Studios
BetSoft
Saucify
Dragon Gaming
Qora Games
AE
GAMES AT FATBET CASINO
FatBet Casino offer Players a wide variety of games ranging from Slots to Video Poker, Blackjack, Baccarat, Roulette and Live Games where Players can play against each other in Real Time. New and Exciting games launch regularly with exclusive offers on these new games for Players to have firsthand experience in the latest games. More information regarding all games can be found on the website underneath the Games Page section. Some games included, but not limited to:
Slots
Mythic Wolf Sacred Moon
Wish Me Luck
Diamond Rhino
Fire Storm 7
Diggin' Deep
Table Games
European Roulette Deluxe
Double Stack Blackjack
Pesca Bingo
Go-Go Bingo
European Roulette
Blackjack Multi-Hand
Joker Poker Multi-Hand Poker
Deuces Joker Multi-Hand Poker
Aces & Faces Multi-Hand Poker
Deuces Wild Poker
Jacks or Better Poker
Tens or Better Poker
Specialty Games
Live Games
Try your hand at our exclusive Live Table Games
FATBET CASINO IN A NUTSHELL
FatBet has accumulated and catered a bevy of 350+ games ranging from Slots to Live Games that's just a click away. With a tantalizing Welcome Bonus allocated upon joining up and a host of other Promotions and Bonuses to take part in and be awarded with daily as all Players progress and grow.
With a simplistic and colorful web design that's easy to navigate, Players will always find what they're looking for with ease. FatBet is partnered with some of the leading developers to create an awarding and entertaining experience for all who Sign Up Now.
FREQUENTLY ASKED QUESTIONS
How Do I Claim My Promotions?
To claim a Promotion all you need to do is register or log into your FatBet account, all available Promotions will be up to claim in the allocated tab in the right-hand corner of the site. Simply click on the Promotions tab and claim your desired available Promotion.
How Do I Withdraw My Winnings?
Once you're ready to withdraw your winnings, you can click on "Cashier", select "Withdraw" and enter all required information requested on the page. Once you've filled in what is needed you can click on "Withdraw" underneath. Our Payments Team will then start with the validation process.
Is My FatBet Account Information Safe?
All FatBet Players' account information is protected under the highest levels of security and is only shared at the Player's discretion.