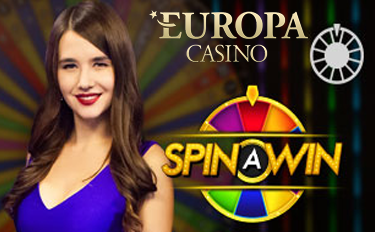 Europa Casino is proud to show off its brand-new game that landed at its Live Casino recently. Spin A Win is a fun, easy to play game that combines the thrill of roulette with the excitement of the carnival; plus, it puts you in line to win a potential top prize worth nearly R9 million!

Spin A Win invites you to take a spin of the wheel to up to 40 x your bet and to place three optional side bets. If fortune is on your side, you'll be a winner!
---
How to Play Spin a Win
Sit down in the Live Casino at Europa Casino and watch as the dealer spins a wheel that contains a set of numbers and several bonus multipliers sections.
Place your bets: Choose out of the six different betting positions (1, 2, 5, 10, 20 and 40), two multipliers (x 2 and x 7) or an extra set of side bets (odd, even and multiplier).
If the result is a multiplier, the bets remain as they are the Live Dealer will spin the wheel again to determine the winning numbers,
The result of the winning round is multiplied by the multiplier/s.
Winnings are limited to R8.8 million.
Watch out for the betting timer: you only have a certain amount of time to place your bets until the end of the betting time of this game round.
Winnings are paid out for the winning bets at the end of each game round.
Side Bets in Spin A Win
There are three potential side bets that you can bet on in this game: Odd, Even and Multiplier. You can place a side bet without placing a main bet. Payouts on side bets are as follows:
If the result of the round is 1 or 5, the Odd Side Bet wins
If the result of the round is 2, 10, 20 or 40, the Even Side Bet wins
If the result of the round is one of the 2 multipliers, the Multiplier Side Bet wins.
If you win on a Multiplier Side Bet, you'll receive your innings at the end of the game round, when the Live Dealer determines the winning number. The Odd and Even Side Bets lose if the Multiplier Side Bet wins.
More about Spin A Win
If complications occur or the game is disrupted, the Live Dealer has a right to cancel the round. In this case, your bet will be returned to your account.

The RTP (return to player) percentage ranges from 90.67 – 97.22%, depending on what you place your bets on. A main bet on 40 has the lowest RTP, while side bets have the highest. Betting on an Odd Side Bet brings you an RTP rate of 97.22%.
Europa Casino Live Casino
Live Roulette
Live Quantum Blackjack
Live Adventures Beyond Wonderland
Live Casino Hold 'em
Live Sic Bo
Live All Bets Blackjack
And many more!