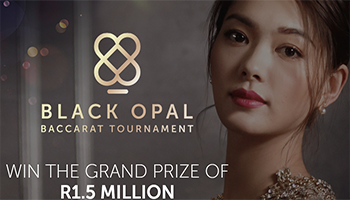 One lucky baccarat player walked away from a tournament recently held at Carnival City as an instant millionaire.

The player, who prefers to remain anonymous, entered the Black Opal Baccarat Tournament which was held at various Sun International properties around South Africa. The grand finale took place at Carnival City Casino.

Run ups to the tournament were held at six casinos: Carnival City, GrandWest, Sun City, Time Square, Sibaya and Boardwalk.
---
The winner played baccarat at Sun City and managed to rack up enough Table Points to become one of 52 finalists who took part in the finale in a bid to win part of the R2.5 million in total prize money up for grabs.
Baccarat Excitement at Carnival City Casino
As a nod to baccarat's huge popularity in Asia, Carnival City decked out the casino with a distinct Oriental influence and Chinese theme. Kung-fun demonstrations and lion dancers held the guests enthralled at the welcome cocktail event.
According to the tables manager at Carnival City Casino, Emma Mothibi, baccarat is an easy game to master as it only has three bets: Player, Banker and Tie. "It's also the only table game that allows players to handle the cards, making it a popular game," she said, adding: "We saw an increasing demand for Baccarat tables at Carnival City as players chased points. The Black Opal tournament has been great for gaming at the casino, as well as showcasing what we have on offer to the whole family out here in the East Rand."
Ongoing Gaming Tournaments at Sun International Casinos
Sun International consistently runs card and table gaming tournaments at its properties, such as the Black Opal Baccarat Tournament, on an annual basis. Players come from all over South Africa to earn their table points at their home casinos, and then travel to the location where the finale is held.
One of the players who reached a spot in the finals said: "It's been a strenuous journey having Sun City and Time Square as my home casinos, but I managed to get two chances. It helps to have a solid understanding of the rules of Baccarat. I loved being here for the finals and the warm welcome from Carnival City."
Another semifinalist who returned to the Black Opal Baccarat Tournament just one year after winning the Sun International 2020 Black Pearl Roulette Tournament, and regularly takes part in international gaming tournaments, said that it wasn't just good luck that see players reach so deep into a tourney.
He said that he does consistently well because he is a "master of strategy". "All casino games, be it Roulette, Baccarat, or Blackjack, require skill and strategy when you're going up against more than one other player," he said.
Practice Table Games Online
Not all South Africans can visit brick-and-mortar casinos on a regular basis to take part in table game tournaments, be it for financial or geographical reasons. As such, the best way to develop a strategy and practice playing is to find a safe and recommended online casino and start playing there.
Most online casinos allow players to access to free table games, which is the perfect way to practice and develop a strategy. Check out this page for our list of recommended South African online casinos.