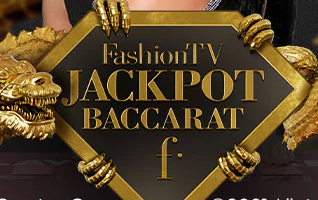 The FashionTV Gaming Group has partnered with the iconic software group, Playtech, to launch a new Live Casino baccarat product. FashionTV Jackpot Baccarat is the group's first branded baccarat title which uses Playtech Live's technology. This is the first of several FashionTV-branded products by Playtech and players will gain access to an excellent new line of entertainment as new titles are released.

According to CEO Ariel Hayat of Playtech Romania Live Casino: "We are very excited to partner with FashionTV Gaming Group to bring the FashionTV brand to the live casino market. Securing leading brands like this is a key pillar of our content strategy as we look to deliver the most engaging gambling entertainment experience in the market."
---
Also commenting was Shai Kaplun, the chief operating officer of FashionTV Gaming who said that it has been a privilege to partner with Playtech to bring a unique FashionTV spin to their blockbuster format. He called Playtech "one of the true industry greats."
"This new game is just one in a new luxury line of live dealer products that invites players to experience the immersive world of FashionTV, firsthand," said Kaplun.
"It's exciting to see a growing number of industry giants turn to our 'brand to business' model as a critical growth engine, and we look forward to continuing to revolutionise the online gaming industry with luxury and glamour through the power of the FashionTV megabrand."
Playtech Delays $3.1 Billion Takeover Bid
In other Playtech news, it was reported that the London-based company has delayed a takeover bid, said to be worth $3.7 billion, by the Australian slot machine maker, Aristocrat. The delay comes from a bidding war for the company after JKO Play, rival to Aristocrat, expressed an interest in purchasing Playtech.
Playtech's takeover panel has given JKO Play until the end of the month to make a better offer to purchase the company.
Since interests to acquire Playtech were expressed last year, the company has offloaded a number of properties to bring it more in line with the business models of potential buyers. In January last year, Playtech sold YoYo Games to Opera for $10 million. In September, it sold Finalta, its financial trading arm, to Gopher Investments for $250 million.
Playtech Makes Tracks in Canada
Further North, Playtech announced a new partnership with NorthSstar Gaming, a technology platform that provides products to Canadian players. The objective of the deal is to see Playtech provide its IMS Platform, Casino, Live Casino, Poker and Bingo software to players via the Northstar Gaming, as soon as the latter has completed regulatory approvals.
Northstar is the exclusive Canadian partner in the media and publish sector with Playtech.
"Playtech's exceptional suite of tools will give us an unmatched edge in the marketplace, given our proprietary content and localization – something we know consumers are looking for," sad CEO of NorthStar Gaming, Michael Moskowitz.
Plasytech CEO, Mor Weizer expressed his "delight" in partnering with NorthStar Gaming as the group prepares to launch its "market-leading" online gaming business in Canada.