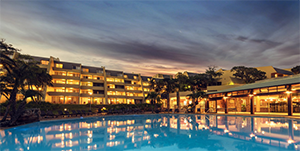 Sun International's only beachfront resort, the Wild Coast Sun, has always been an attractive destination for visitors and locals for decades. One of the reasons why this property has been such as success-story is the great work put in by its Public Relations and Promotions Manager, Sandi Burger.

Recently, after 35 years in the position, Burger retired from the Wild Coast Sun, in what is the casino resort's 40th year of operations. During those years, Sandi worked under five different general managers: Alberto 'Chico' Chiaranda, after whom Chico's Restaurant is named, Melville Vogel, Alec McMath and Myan Moodley. She will be leaving her role under Peter Tshidi, who took over as GM in 2019.
---
Sandi Burger wore many hats over the three and half decades of working at the property, including promotions coordinator, convention center worker and Most Valued Guest and Gaming promotions manager. She later went on to become promotion's manager and marketing manager.
Speaking to the South Coast Herald, Burger called the Wild Coast Sun "like Mauritius on our doorstep." "Every day working here has been both beautiful and different," she said.
Originally in the Transkei
Burger recalls the first years of operation of the Wild Coast Sun:
"Wild Coast Sun, which was then located in what was known as the Transkei, was first opened as a Holiday Inn and only later changed to a Sun International Resort. At the time, staff had to have a work permit to work in the Transkei," she said.
"I remember the heydays when gambling was still illegal in South Africa and we had 36 scheduled buses arriving from Durban every Saturday night, and additional unscheduled buses parked outside. We had over 1 000 machines and 60 tables."
In 1986, the hotel increased its room numbers from 240 to just under 400. A new wing was built and a restaurant and swimming pool were added. Four years later, the Convention Center was added. In 2010, the property underwent a R460 million upgrade and the Wild Waves Water Park was added to attract more families.
Legal Gambling in South Africa
Sandi Burger remembers the entertainment events held at the Wild Coast Sun, including Durban July functions, tattersalls and bookmaking. However, things changed in 1999 when gambling was legalized in South Africa and casinos started opening up all over the country.
The Wild Coast Sun was suddenly faced with incredible competition and had to downsize its casino floor. The resort has managed to keep up with the times and continues to offer a supreme gaming experience and four-star hotel accommodation to visitors. It is clearly one of South Africa's most popular brick-and-mortar casinos.
The resort boasts an 18-hole golf course which was designed by American golfer, Robert Trent Jones II and Burger plans to spend a lot of time playing on the greens now that she's retired.
Saying Goodbye to a Wild Coast Sun Icon
Peter Tshidi spoke about the departure of Sandi Burger from the resort, and said that her presence would be sorely missed.
"Sandi's extensive knowledge of the property, her sense of humour and her can-do attitude will be missed. But we know we will still see her, since she might avoid the office, but she definitely won't be able to stay off our greens," he said.