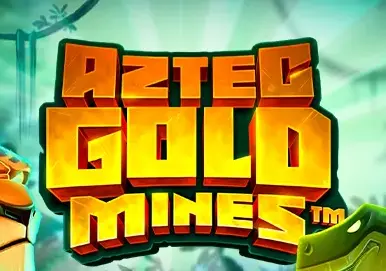 When you think about the themes of the most popular online casino games, a much-loved list comes to mind and includes games about superheroes, ancient civilizations, gods and sports.

A sub-theme of the ancient civilizations genre includes games that follow the adventures of the ancient Mayans and Aztecs. These people were known for their magnificent collections of gold and silver, many of which have disappeared below the brush and undergrowth of ancient forests over the past few hundred years.

So, it makes sense that players are thrilled with the news from the software vendor, iSoftBet has added an exciting new title to its ever-growing platform – with a popular Aztec theme and the chance to find your own hidden treasures.
---
What is the "Gold Mines" in the Game's Title?
If Aztec Gold sounds like a familiar title to you, it's because it's an already popular game in the iSoftBet portfolio. What makes it different and refreshed, is that the vendor has added its Gold Mines feature, making it the second game in its collection to receive it. The objective of the feature is to find golden squares on the reels which have the capacity to boost winnings.
Aztec Gold Mines slot is played on a 5 x 5 grid. Behind each square on the grid, you'll find a Montezuma Mine or a Win Multiplier. If you land the Mine, the accumulated prize is lost and the round ends.
The Win Multiplier increases any winnings made.
According to Mark Claxton, Head of Games at iSoftBet, said: "Aztec Gold Mines brings together the much-loved design and theme of the original slot, while also offering a new style of game perfectly suited to the modern online player."
"It looks to be another successful title to add to our growing games portfolio and would make an exciting addition to any online casino offering."
Other Things to Look out for in Aztec Gold Mines Slot by iSoftBet
Unusual gameplay whereby, instead of the spinning reels that you'll find on typical slot games, you'll find 25 flipped tiles. Behind each tile is a cash prize or an angry Aztec who will put an end to your winning spree. You know which tile you'll want to flip!
RTP rate of between 96% and 98.88%.
Adjustable volatility rate, difficulty, size of bet and number of mines.
Maximum win of 288 x your bet.
Excellent animations that include tigers and snakes.
Similar mechanism to iSoftBet's Gold Digger Mines with its fascinating mining theme.
Casual players will enjoy the minimum bet of 1.00, while high-rollers will love the challenge of betting 300.00 per spin.
Comes hot on the heels of a slew of new iSoftBet titles such as Musketeer Megaways and Golden Jokers Double Up.