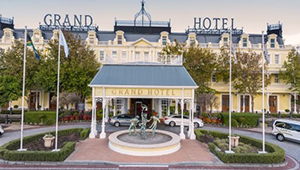 Corporate responsibility is an important factor in any industry, and South African casino and hospitality groups take the mission to help their local communities very seriously. Groups such as Sun International and Tsogo Sun regularly contribute to funds and schemes in a bid to help the underprivileged of South Africa.

Recently, GrandWest Casino, considered one of Sun International's most successful casino properties, announced that it has given more than R22 million in bursaries to deserving youngsters since 2007. Not only has GrandWest changed the lives of 1,427 students, but – by doing so - it has also improved the future of South Africa.
---
GrandWest Casino Funds Class of 2020
The Class of 2020 were recently awarded their bursaries by GrandWest Casino. According to Sun International, the bursary recipients come from areas that are rife with socio-economic issues, including Pelican Park, Gansbaai, Strand, Khayelitsha, Durbanville and Nyanga. The general manager of GrandWest, Mervyn Naidoo said that disadvantaged students who had no financial means to study full time were funded through the casino's special education bursary.

"Bursaries are awarded to address scarce and future skill requirements in South Africa broadly, as well as with specific focus on the hospitality sector," he said. Present at the awards ceremony was South African Education MEC, Debbie Schafer, who was on hand to congratulate the recipients on never giving up on their dreams and aspirations, especially during such a challenging pandemic year. She said that receiving these bursaries "shows true resilience, which will stand you in good stead for the future."
Help to Focus on Studies
GrandWest Casino awards bursaries in many fields, including accounting, construction health and safety, mechanical engineering, and environmental and water science. One of the recipients, Ncebakazi Maranga, a resident of Khayelitsha, received assistance to study at the Cape Peninsula University of Technology.

According to Maranga, when a person is from a disadvantaged background and a first-generation university student in their family, one faces many adversities along the way – the main one being financial support towards studies. "Being a GrandWest Bursary recipient enabled me to focus on my studies without being worried about my financial circumstances," said Maranga.
GrandWest Casino is Huge on Social Responsibility
While GrandWest Casino is one of the most popular entertainment destinations in the Mother City, there is a lot more than meets the eye other than its grand structure and its exciting 24/7 casino floor. The casino, like many Sun International properties, is very dedicated to its corporate responsibilities. Some of its projects, past and present, include:
Take a Girl to Work Day : Hosting young students who are considering a career in the entertainment and hospitality industry.
Schools Renovation Program : Upgrading hospitality classrooms at schools in underprivileged communities. Installing new appliances such as stoves, fridges and running water.
Chefs that Care : GrandWest chefs help feed adults at the First Feed Elim Night Shelter and other locations.
Going Green: GrandWest integrates environmental management into sustainable business practices. These include improving electricity efficiency, reducing water supply, zero-waste-tolandfill goals and sustaining food security