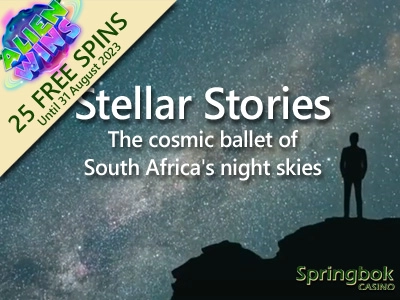 August 02, 2023, Johannesburg, South Africa (Press Release) – This month Springbok Casino explores the celestial wonders of the South African night sky. From the stunning Southern Cross to the radiant rings of the Milky Way, this month's Stellar Stories feature opens our eyes to the cosmic ballet unfolding above us.

One of the most noticeable features that can be seen from South Africa's southern latitude is the bright, cloudy band of the Milky Way. The distinctive Southern Cross constellation is a beacon for navigators that's so special, it adorns South Africa's national flag! Then, there are the Magellanic Clouds, our closest galactic neighbours, visible only from the Southern Hemisphere. The annual Perseid meteor shower in August is an unforgettable spectacle.
---
The Southern African Large Telescope (SALT) is South Africa's gigantic eye to the universe. The largest optical telescope in the Southern Hemisphere, SALT has helped us explore distant stars, galaxies, and quasars. The Square Kilometre Array (SKA), the world's largest radio telescope, listens to the whispers of faraway stars and galaxies far away.
South Africa is blessed with some fantastic stargazing spots. This month's feature points out the best places to view the heavens above us, including Sutherland, home to SALT, and Kruger National Park.
Among the constellations, the Southern Cross stands out in the Southern Hemisphere. This month's Stellar Stories feature includes a video which shows where to spot it in the night sky.
South Africa, is treated to several meteor showers throughout the year, like the dazzling Perseids in August. The Stellar Skies feature also includes a guide to when to catch these space fireworks. It also shares stories connected to the signs of the zodiac and includes information on the increasing problem of space junk – old satellites and debris littering the sky.
Stars and planets have influenced South African traditions, and stories for centuries and this special feature explores how the cosmos has shaped the stories of various South African cultures.
AUGUST FREE SPINS
25 Free Spins on Alien Wins Slots
Coupon Code: STELLAR
Available until August 31, 2023
Alien Wins is a space age game with Expanding Wilds that stick during free spins, and multiply wins up to 8X. Its colorful crew of extraterrestrials blast slot players into a universe of epic prizes.

Springbok Casino, South Africa's favourite online casino, has hundreds of slots and table games, all played in rands. Customer service is available in either English or Afrikaans.