August 1, 2022, Johannesburg, South Africa – South Africans are no slouches when it comes to garnering prestigious awards for their important work in various fields and gaining world recognition for their efforts. This month, Springbok Casino salutes exceptional people who received Nobel Prizes for making great strides for humanity.

Dr. Max Theiler became the first African-born winner of the prize 71 years ago when he successfully developed a vaccine to combat yellow fever. Albert Luthuli led the ANC for 15 years between 1952 and 1967 during their non-violent Defiance campaign and won the Nobel Peace Prize for his non-violent resistance against the apartheid regime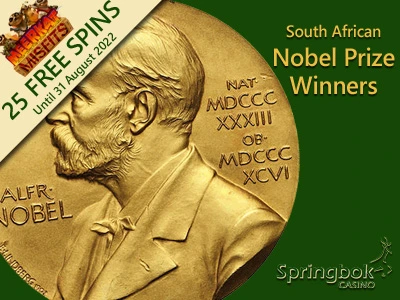 Desmond Tutu led many anti-apartheid marches and lobbied many world governments and was awarded the Nobel Peace Prize.
Honoured with a Nobel Prize for Literature, Nadine Gordimer edited Mandela's "I am prepared to die" speech and wrote novels related to the issues of apartheid and other political issues.
Sidney Brenner was part of the team that created the first computer matrix analysis of nucleic acids using TRAC and was recognized with a Nobel Prize for Medicine.
John Maxwell was justifiably awarded a Nobel Prize for Literature for his dozens of acclaimed essays, critiques and novels.
Michael Levitt won the Nobel Prize for Chemistry for his molecular research. This month Springbok players can take 25 free spins on the new Meerkat Misfits slot game from Realtime Gaming.
AUGUST FREE SPINS
25 Free Spins on Meerkat Misfits
Coupon Code: NOBELPRIZE
Available until August 31, 2022

Meerkat Misfits is a high volatility game with four meerkats whose mission is to protect the animals of the African savannah from poachers and a four stage free spins feature with increasing win multipliers.
Springbok Casino, South Africa's favourite online casino, has hundreds of slots and table games, all played in rands. Customer service is available in either English or Afrikaans.