South Africans are quite rightly fascinated by the country's diverse and exotic wildlife. This month, Springbok Casino shares stories and videos about Africa's Wild Dogs. Related to wolves, coyotes, hyenas and jackals, Wild Dogs are tall, lean hunters with oversized ears and four, rather than five toes.

"Wild Dogs are amazingly skilled hunters," said Daniel Van Wyck, South African wildlife afficionado and manager of Springbok Casino. "They can run as fast as 70 kilometers per hour for up to ten minutes, so their prey find them nearly impossible to escape!"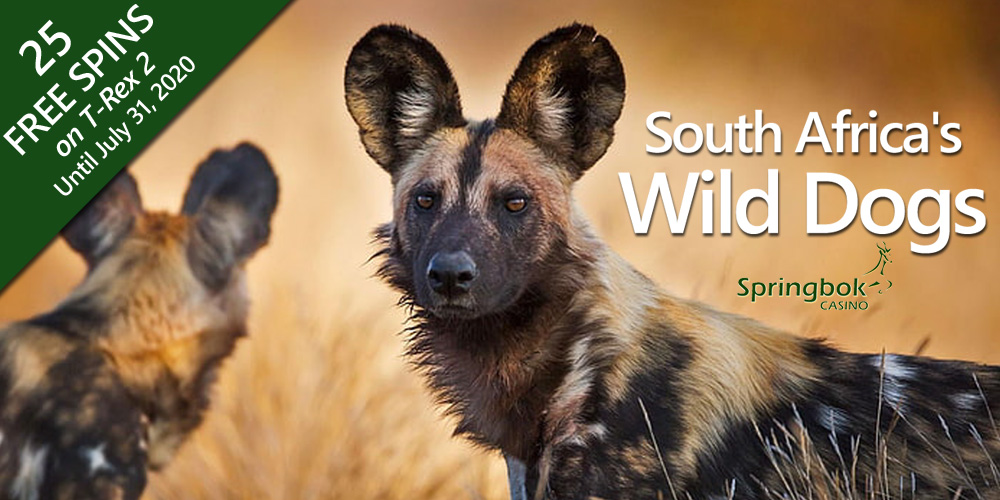 The orange, yellow and black Cape Wild Dog is the largest of the African Wild Dog subspecies. The San people of Botswana believe that shamans and medicine men can transform themselves into Cape Wild Dogs. Artistic depictions of the smaller East African Wild Dog, which has a darker coat, have been found on ancient Egyptian objects. In Ethiopia, home of the Somali Wild Dog, some believe that injured Wild Dogs can flick their blood at their assailant causing instant death.
Due to habitat fragmentation, infectious diseases and conflict with human activities, there are fewer than 550 Wild Dogs left in South Africa. With only 70 left in the wild, the West African Wild Dog is classified as critically endangered. The Chadian Wild Dog, found in just one protected region in the Central African Republic, is close to extinction.
This month Springbok is giving all players 25 free spins on its T-Rex II slot game from Realtime Gaming.
JULY FREE SPINS
25 Free Spins on T-Rex 2
Coupon Code:

WILDDOGS

Available until July 31, 2020

The T-Rex 2 slot is even wilder than the original game and has some great new features. A hatching Dinosaur Egg is this game's scatter symbol and can trigger up to 100 free spins. The mighty T-Rex is Wild and when it roars into place it doubles the win. The T-Rex can devour any dinosaur that gets too close and turn it into another Wild T-Rex. With hundreds of casino games, all played in Rands, and customer service in either Afrikaans or English, Springbok Casino is South Africa's most popular online casino.