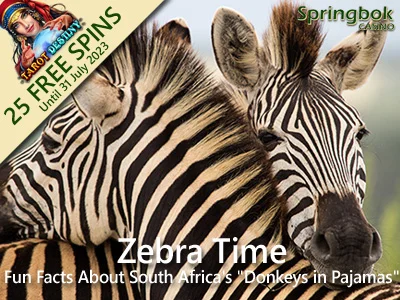 July 3, 2023, Johannesburg, South Africa (Press Release) – Zebras are undoubtedly one of the most recognizable animals on the planet. This month, South Africa's Springbok Casino has published a special feature on these "donkeys in striped pajamas". Until the end of July, the popular rand casino is giving everyone 25 free spins on its Tarot Destiny slot game.

Springbok's Zebra Time feature answers such burning questions as:

Where did the Zebra get its name? 9 While zebras are only found in Africa, the origins of the name 'zebra' is actually derived from Spanish/Italian/Portuguese.)
---
How many species of Zebra re there, and how do you tell them apart? (The main difference is in the stripes!)
Are Zebras black with white stripes? Or white with black stripes? (The answer is on their bellies.)
The story includes information on two very rare types of Zebra: the Golden Zebra and albino Zebra. It also discusses their mating rituals and explains why Zebras really can't be domesticated.
The article closes with a few Zebra jokes.
Every month, Springbok offers all players free spins on one of its most popular games. This month, players are invited to try the Tarot Destiny slot.
JULY FREE SPINS
25 Free Spins on Tarot Destiny Slots
Coupon Code: ZEBRAS
Available until July 31, 2023
Tarot Destiny is a high volatility game featuring a mystical Gypsy Fortune Teller who can multiply wins up to 5000X. Her Crystal Ball is the Scatter symbol that can trigger up to 20 free spins.
Springbok Casino, South Africa's favourite online casino, has hundreds of slots and table games, all played in rands. Customer service is available in either English or Afrikaans.