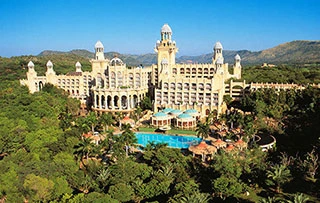 Nico Myburgh, who has been part of the team at Sun City for over a decade, has been appointed the general manager of the property's luxury The Palace Hotel.

Sun International has said that Myburgh intends repositioning the hotel into a deluxe six-star property, essentially upgrading its flagship casino resort.

Myburgh has been a crucial part of Sun International's managerial line-up for twelve years. Most recently, he served as hotel manager at the Table Bay hotel, successfully leading it through the global pandemic.
---
The Right Person for the Job
Myburgh told iol.co.za that given his history with The Palace, as well as his passion about the property and its people, he believes that he is the right person to upgrade the hotel and turn it into one of South Africa's most prestigious properties.
"I love dealing with customers," he said. "I always say I may not be able to travel 365 days a year, but I'm living vicariously through the people who come through our doors and share their experiences."
Iconic South African Hotel and Casino
The Palace is already considered an iconic hotel that is part of an iconic casino resort. It is a premier destination for visitors from South African and all over the globe, and Sun City has hosted some of the biggest events in the world, from beauty pageants to international sports competitions.
"The Palace is an iconic hotel," added Myburgh. "It's always been a flagship, not only for Sun International, but for the country as well. It is known worldwide as a spectacular hotel. I have a soft spot for the property. When people walk into the lobby, they are amazed as they look up at the beautiful architecture and hand-painted ceilings. It is a stunning property in an even more amazing location, and I am happy to be back."