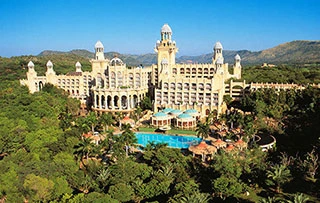 A South African gambler, who lost R5.2 million playing at Sun City, has tried to sue the casino for damages. He claimed that Sun City was negligent and failed to protect him since he had placed himself on the 'banned-list'.

But a Johannesburg High Court ruled that businessman Suhail Essack was in fact responsible for his own misfortune and therefore had no grounds on which to sue Sun City.

The case came before Judge Andy Bester who heard Essack and his wife, Naseera Cassim's claim that Sun City had been negligent in allowing him to gamble. As a result, they said, Essack blew over R5 million at the casino.
---
The judge, however, did not find any grounds for the couple's claims and ruled against them.
"Having voluntarily placed himself on the list of people excluded from gambling, he nonetheless went to the Sun City Casino and, on his own version, lost a substantial amount of money," wrote the judge in his ruling.
"His proposition implies that a compulsive gambler may retain his winnings when transgressing the regulations but hold the licensee of the gambling establishment liable for his losses. Such a lopsided approach does not serve the purpose of the provision, and is not in the public interest."
The "provision" which Judge Bester is referring to is one listed in the North West Gambling Regulations, which obliges all casino licensees (in this case Sun International) to ban excluded customers from gambling.
Essack claimed in his argument that this provision had been breached since he had asked to be banned from gambling in the province – and all over South Africa – from 2017. Nevertheless, he said, he had no problem entering gambling facilities.
At his own admission, he used his wife's credit card to gamble with, after he was not allowed to draw money on his own car since he was 'banned'.
He claimed that because he was "encouraged and permitted" to gamble by the South African casino giant, he lost R5.2 million.
But Judge Bester believed differently and sided with Sun International. He said that the statuary provisions state that a casino may not "knowingly" allow a banned person from gamble, and this was not mentioned in Essack's claim.
"It follows that the allegations contained in the particulars of claim are not sufficient to establish a claim based on a breach of statutory duty," he said.
Essack has now been given 20 days to amend his original claim and have his case reheard. If he doesn't do so, the court will dismiss this claim altogether, and he will have to pay all court costs and Sun International's legal fees.