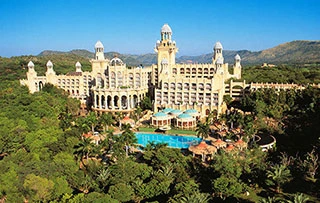 Sun City, the crown jewel of Sun International, has netted close to R1 million in energy savings over a two-month period. This substantial saving moves the resort closer to its yearly net saving target of R3.2 million.

Boosted Savings Due to Weather and Efficiency

Increased solar capacity, beneficial weather conditions, and streamlined operations contribute to these savings. As summer approaches, the resort anticipates even greater savings, stated Lwazi Mswelanto, Sun City's Head of Sustainability.
---
Solar Infrastructure Investment
Earlier this year, Sun International revealed an R16 million investment in a solar plant aimed at reducing Sun City's reliance on the problematic national grid. The current setup consists of 2,584 solar panels adorning the 12,000 square meter roof of the Sun City Hotel, generating around 1.4 megawatts (MW) at peak performance.
Future Expansion Plans
An extra R1.6 million will be invested to add 209 more panels, elevating the plant's capacity to 1.56 MW by the end of the year. This will fulfill 10-15% of the resort's entire energy requirements.
Mitigating National Grid Vulnerabilities
To counter ongoing power interruptions and load constraints, Sun City has incurred around R5 million in diesel costs this year. Detaching from the national grid remains a long-term strategy, given its consistent challenges.
Comprehensive Sustainability Approach
In addition to solar power, Sun City is executing a wide-ranging sustainability strategy. This includes energy-efficient lighting, HVAC upgrades, and a gradual shift towards other renewable energy resources, according to General Manager Brett Hoppé.
Through these initiatives, Sun City aims for full energy independence in the long term, which is advantageous for both the resort and the larger Sun International group.