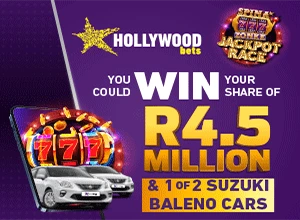 If you want to grab your share of literally millions of Rand in prize money, as well as other super prizes such as luxury cars, then don't go far. We're here to tell you that Hollywood Bets is running a fantastic promotion this November and we'll even share how to enter the competition!

Hollywood Bets is putting up R4.5 million as a total prize pool, as well as 1 or 2 Suzuki Baleno cars.

A total of 2,333 players stand to win a guaranteed share of the prize in cash, which will be payable into their Hollywood Bets account. The money can be withdrawn.
---
How to Win
All you need to do to win part of this prize is to
play the online slot game, Spina Zonke
Days to play the game: Wednesdays, Fridays and Saturdays
Times to play the game: 20:30 to 22:30
Promotion dates: Now until November 30th, 2022.
This is How the Promo Works
Race Phase
Runs between 20:30 – 22:30 every Wednesday, Friday and Saturday until November 2022.
The R4.5 million jackpot is guaranteed to trigger before the end of this phase.
-
The jackpot display will show the jackpot amount and when the race ends.
Pay Out Phase
This phase begins when the jackpot is triggered anytime between 20:00 and 22:30.
Players who place a wager closest to the trigger of the jackpot will be assigned a winning position in the race, guaranteed.
A player is only eligible for one position per race.
Payouts will be awarded as shown in the breakdown.
How to Win Suzuki Baleno Cars
To gain entry into the Suzuki Baleno draw, players must have had a qualifying spin in a previous Jackpot Race.
The winner of the first car will be announced on Monday, November 14th.
All players who have bet on any of the previous Jackpot Races up to November 12th will be eligible to win this ar.
The winner of the second car will be announced on November 28th.
Winners will have the option of winning the car or taking its cash value of R220,000. An individual entrant can only win one car.