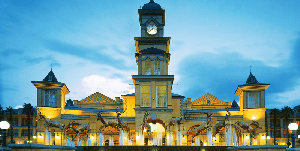 Need a little extra cash in your back pocket? Nobody has ever turned their nose up to winning their share of a R200,000 prize, and neither should you!

Throughout the month of May, Gold Reef City Casino will be handing out points to lucky players. Play during four set periods in May and visit the casino every Wednesday to see if you're one of ten lucky players to win a R5,000 prize!
---
How to enter the Cash Fever Promotion
Visit Gold Reef City between now and May 26th, 2021.
You'll earn points that count towards tickets for the Wednesday draws.
Visit Gold Reef City on Wednesdays, May 5th, 12th, 19th and 26th to print your tickets at the e-Host.
Every ticket that you earn during the promo period will give you a chance to win one of 10 guaranteed cash prizes every Wednesday.
How to Earn Points
Your way to winning cold, hard cash has never been simpler. Play your favourite slot or table games on the Gold Reef City Casino floor between now and May 25th to earn your points. You'll qualify for the Wednesday Cash draw tickets. For every 100 points that you earn, you'll get one ticket into the draw. Earn points during four time periods:
Now until May 4th
May 5th until May 11th
May 12th until May 18th
May 19th until May 25th
How do the Draws Work?
After you earn points during one of the periods above, you need to activate your entries by inserting your Gold Reef City Rewards card into the eHosts and printing your ticket receipt on the day of the draw.
Every Wednesday, two draws will be held: at 7 pm and at 8 pm.
If your receipt number is called out, you'll be given 180 seconds to present yourself at the verification station. If you don't, there will be a re-draw.
The promo has electronic draws that are conducted through an electronic draw selection system known as TEEDS. The system chooses winners on a random basis.
The tickets are drawn automatically and entered into the draw once you print your ticket receipts from the eHost on the day of the draw from 8pm.
What Can You Win?
Every Wednesday, two draws will be held.
In the 7 pm draw, five players will each win R5,000 in cash.
In the 8 pm draw, another five players will each win R5,000 in cash.
Cash Fever Promotion Terms & Conditions
Only Gold Reef City Rewards Gold & Platinum cardholders are eligible to enter the promotion.
If you're not yet a cardholder, you can sign up for free at the Customer Service desk at Gold Reef City.
100 points earned = 1 draw ticket. Play your favouritegame on the casino floor during the promo period with your Gold or Platinum rewards card.
Players can earn multiple tickets into the draws. For example: Earning 1,000 points during the earning period gets you 10 tickets into the cash draws.
The promotion is not open to anybody under the age of 18.
Any player with a Refusal of Entry order or who is self-excluded may not enter the promotion.